Eight years of marriage isn't typically a major milestone.  In fact, the more you have, (unless it is a 10, a 15 or a 20) it seems the more traditional the celebration becomes – kiss, 'happy anniversary', dinner, card, gift….
And this year, with Jeff training an out-of-town colleague, I believed even our dinner had been bumped.
But I was wrong.  Surprisingly-delightfully-wow-I-had-no-idea-wrong.
A surprise morning massage.  Instructions to be ready at 7pm.  And to be f-a-n-c-y. (I like fancy) So, I tried.
My brother-in-law appeared  a few minutes to 7:00 and I was sent to a local restaurant with directions to introduce myself to the hostess.
I did.
She squealed.  Yes, Squealed.  And then said, (and I quote) "Oh, I hope I don't blow it!)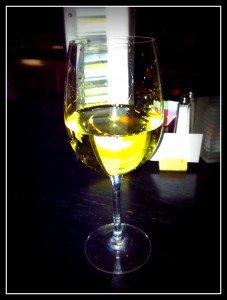 The plot thickens.
I'm escorted to the bar.  I'm seated.
The bartender gives me this: (like I'm a regular, or a princess or something)
And then I wait.
I make friends with strangers at the bar.
They ask if I'm waiting for anyone…. and then what we are celebrating.
My husband texts.  He's on his way.
When he arrives, we are taken to our table.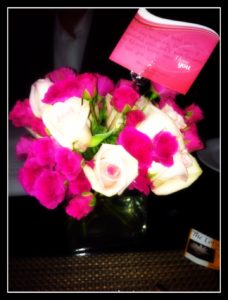 And I see these:
Impressive.  So much forethought.  So much effort.
And then, the note.  And, I have no doubt that I am LUCKY.
Dear Danielle,

Crazy 8, it's all 8 up, Call our first 8 years of marriage whatever you want but this I do know: 8 is not enough. I want more.

This 8th year of marriage has taught me a valuable lesson.  Being married is a team game. It's you and me versus the world.  And you know what, there's no one I'd rather have on my side.  I couldn't imagine going against you; that would not be fun. And, I'd never ever do this without you. I love our life too much.

I know that I've stated how proud I am of you, but what you've done, starting a business, raising 2 "small people", dealing with my emotional swings and still finding the energy to laugh at my jokes (well that's easy when they're so darn funny) is truly amazing.  I love you for so many reasons.

You have a business with a consistent revenue stream and even more important, you have found a career for which you have a passion.  On top of that, you have taught me that being truly happy is THE most important thing in life.  For that I thank you, I thank you for pushing me.  I thank you for understanding that I love you and the kids first and myself a distant fourth (to a fault).  I thank you for making me realize it's ok to think about me as well, but thank you for loving me the whole time.

I think this 8th year of marriage has brought us closer together now than where we were in Octboer 2002.  I think this 9th year of marriage will see significant change in our lives, but the most important part is that the 4 of us are together, healthy and happy.  I love adventure, only if you're navigating all of life's crazy turns.

So, thank you for marrying me 8 years ago.  Thank you for sticking with me this past year.  Thank you for teaming up with me to raise 2 wonderful loving, unselfish children.  Every time I look at our daughter, I see you.  She is a little angel.  And every time I look at our son, I laugh.  He's the spitting image of his pop.  I love it.  Thank you for our family.

I love you.

Jeff.
The note is reprinted with Jeff's permission.  Because only his words give the night the magic it possessed.