It was just like any other cruise – except it wasn't.
It was the exception in every way.
The Carnival Vista was making its debut in the United States….having spent a glorious five months in the Mediterranean, ferrying guests from Athens to Barcelona, from Naples to Marseilles, and now, here she was in New York City.
It was an overnight gala dockside to welcome the ship to America, christen it as the newest, biggest and boldest in Carnival's fleet and officially name it The Vista with godmother – reigning Miss USA, Deshauna Barber doing the honors. Barber is the first woman to be named Miss USA while currently active duty in the military – she is the United States Army Reserve.
Listening as she spoke, and performed the ceremony, it was clear Barber was equally as awed by her godmotherly duties as Carnival was honored to have her. As a member of the military, as a strong woman who spoke gratefully of her family's support of her – she fully represents the hallmark of 'Honor, Family and Fun' that represents the bond between Carnival and charitable partner Operation Homefront.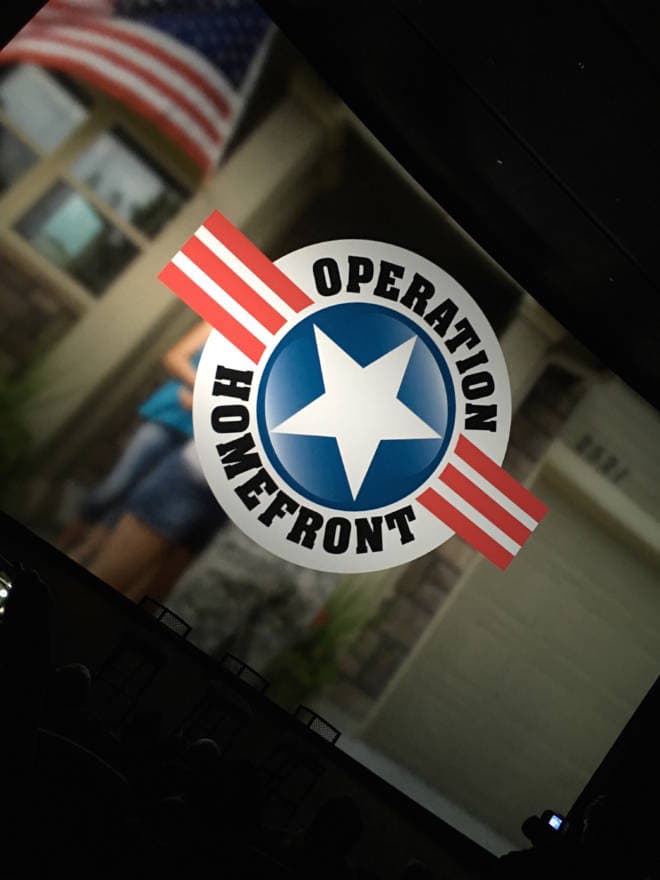 To further celebrate this overnight experience, hundreds of military personnel and their families were honored by Carnival as part of the cruise line's relationship with Operation Homefront and the current Country Music Association's Female Vocalist of the Year, Carrie Underwood.
Yes, Carrie Underwood performed a private concert for some of the military's finest as part of this event as my family and I were thrilled to have been on board to see it happen. Underwood is a special kind of magic and treated this small and captivated audience to a show I'm confident they will not soon forget. Her hour-long set inside the Limelight Lounge included favorites like Jesus Take the Wheel, Good Girl, and Blown Away as well as a few she rarely sings publicly. She even remarked that she so rarely performs in small venues, it was a joy to be able to see the faces of the people in the audience as they enjoyed the concert.
As the cruise line that carries the most military families each year, Carnival and Operation Homefront prioritize Honor, Family and Fun. Commemorative Dogtags were a part of the festivities. My small girl and I wore ours proudly.
The Vista is everything you have likely heard promised…. more than one-thousand feet of Carnival's flagship fun – boasting an array of expeditions and treasures both adults and children will find both enticing and unforgettable.
For hours, my small people climbed and balanced, laughed and tested their athletic prowess scaling the sports course and SkyWalk (why, yes – there is most certainly an 'easy' and 'challenging' option – my children tackled the challenging – multiple times – while my husband went right for the easy….I can't say much as I opted to be the photographer.)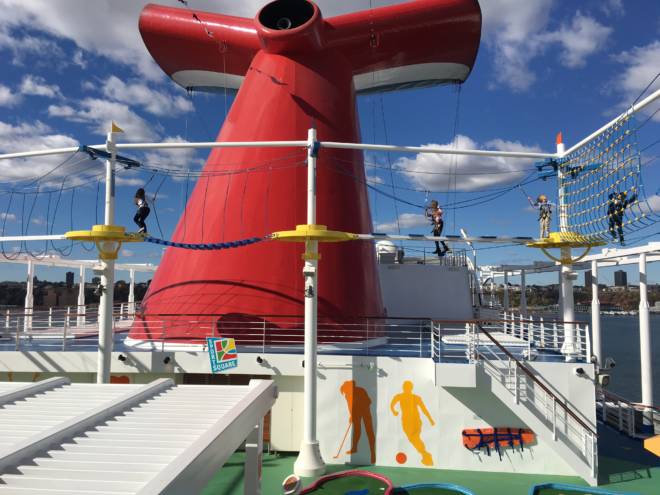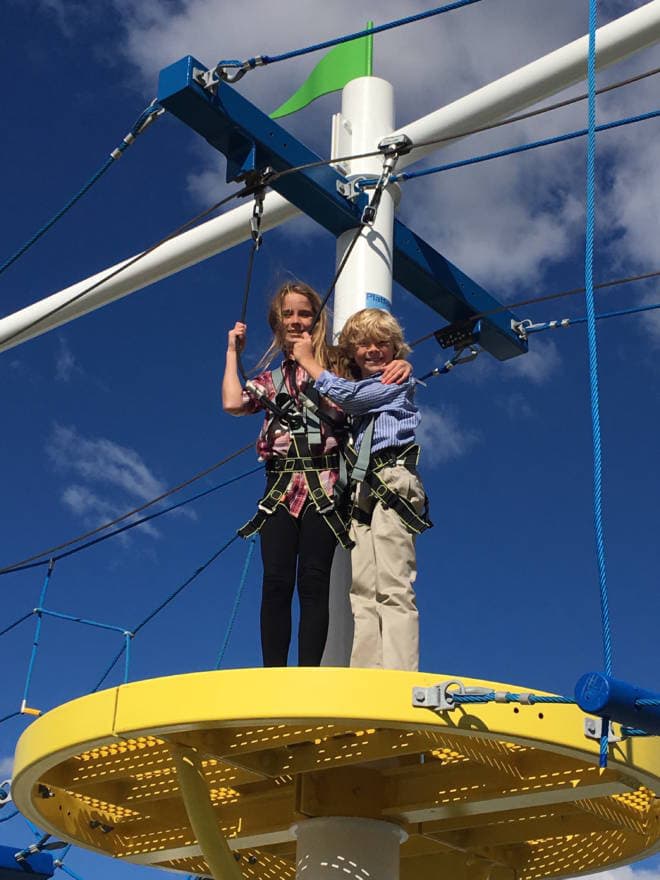 This is just a portion of the sports square which also includes mini golf and a jogging track.
The Skyride is the first of it's kind on board a ship – it is…yes, that's right – a bike ride in the sky. My small people couldn't have been happier to be reunited with their good friend Natalie, as I was with Natalie's mom, Vera.
Exploring everything the Vista has to offer was that much more exciting with good friends…. and of course there was the concert…and dinner and, well, everything VISTA.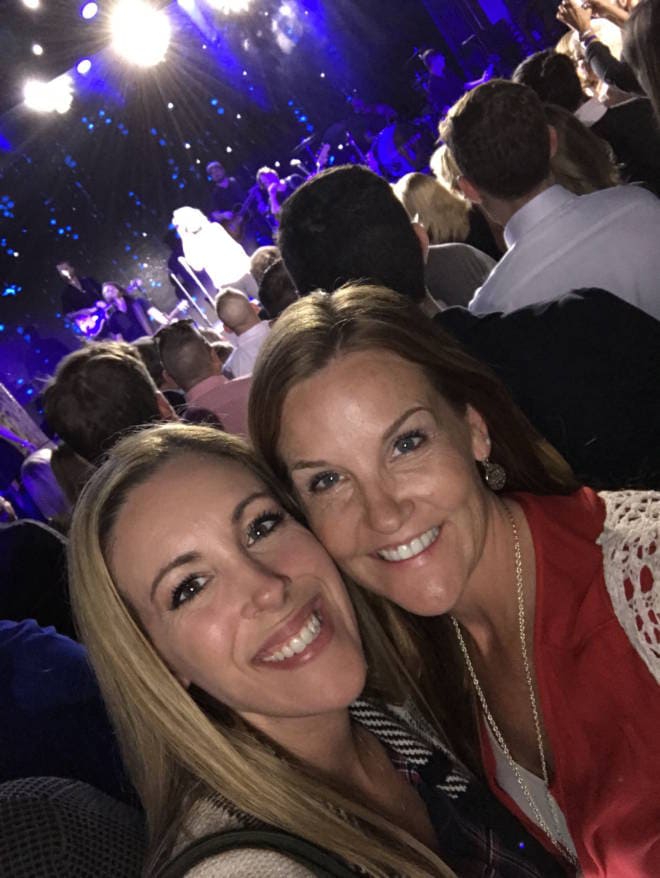 With multiple pools (a Serenity Suite that is for adults only), restaurants to suit every tastebud – think sushi, lobster rolls, a top-notch steakhouse, Italian, and by far one my Carnival exclusive favorites Guy's Burger Joint (yes, burgers from Guy Fieri) – the Vista welcomes each guest with an LED Atrium and even the first of its kind Micro-Brewery at sea – the Red Frog Pub.
We were only on board for one night, but Delaney and Cooper made sure to visit both Camp Ocean and Dr. Suess' Bookville. Though we didn't have the chance on this adventure, it is worth noting, aboard every traditional Carnival Cruise sail, you and your family can also support another of Carnival's heart partners – St. Jude's Children's Hospital – by either participating in the most fun dance off – Groove for St. Jude, or purchasing one of these adorable bears.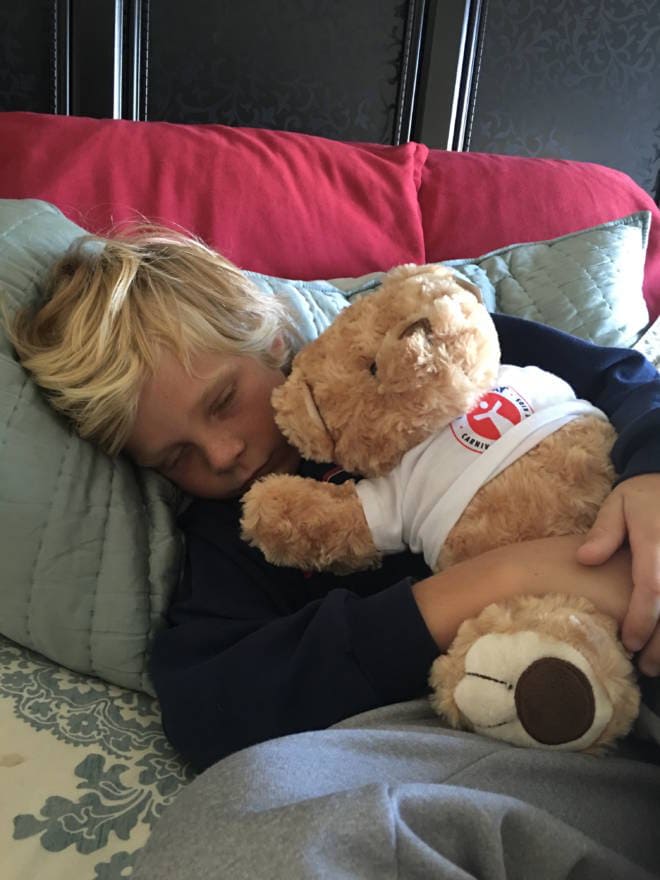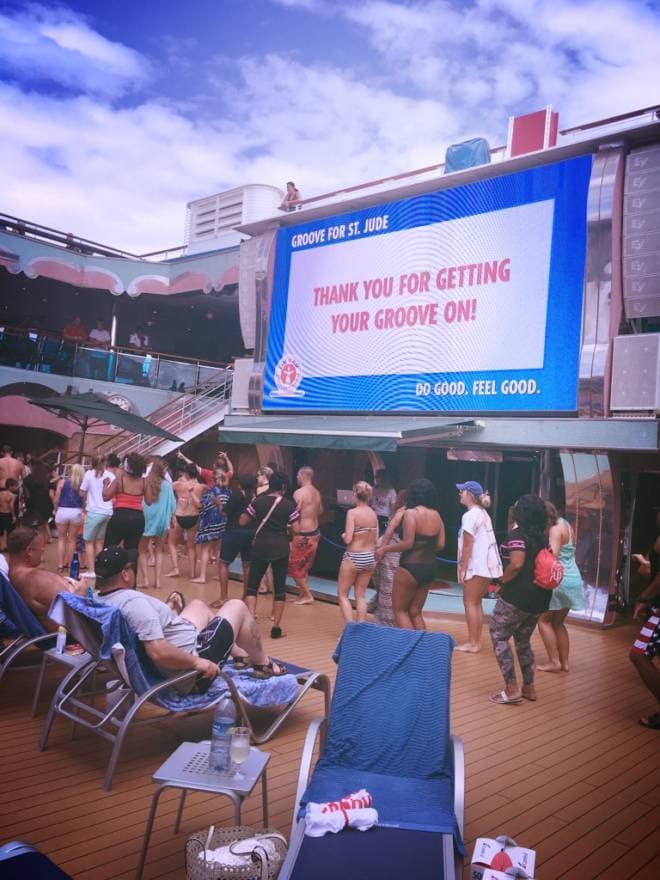 You can see I've joined in before and Coop is a fan. Carnival is well on their way to hitting their next level goal of donating 18 million dollars within the next five years – they (with your help) have already given 10 million.
Because you need to know – the Vista also has the very first IMAX Theater at sea as well as a staple you can find on many of their ships – Alchemy Bar – a cocktail experience with some of the finest bartenders you'll ever meet. You describe your taste preference and they concoct a custom cocktail to your very liking.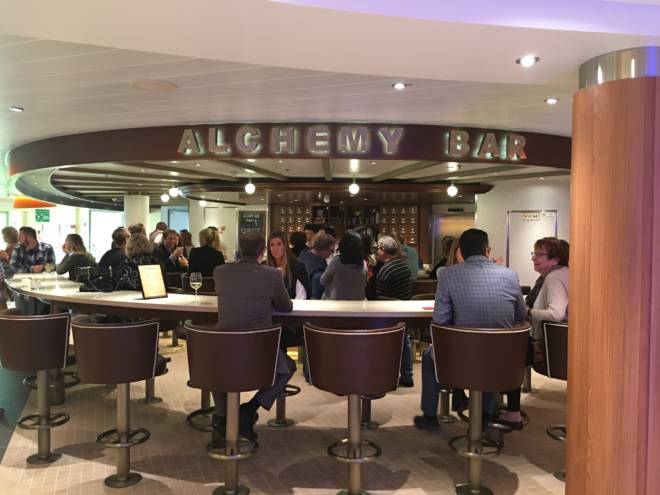 This majestic ship will set sail out of Miami – heading to Caribbean ports soon. You can see the schedule here and begin to plan your cruise for 2017 (or even for the remainder of this year) now.
Where will you go? And once you are on board – what in the world will you do first?