My small girl is a reader.
She devours book after book, often reading 200 pages in a day. It isn't unusual to find her squirreled away, caught up in her latest favorite. If she is especially enamored by a certain story, she can finish in a matter of a day or two.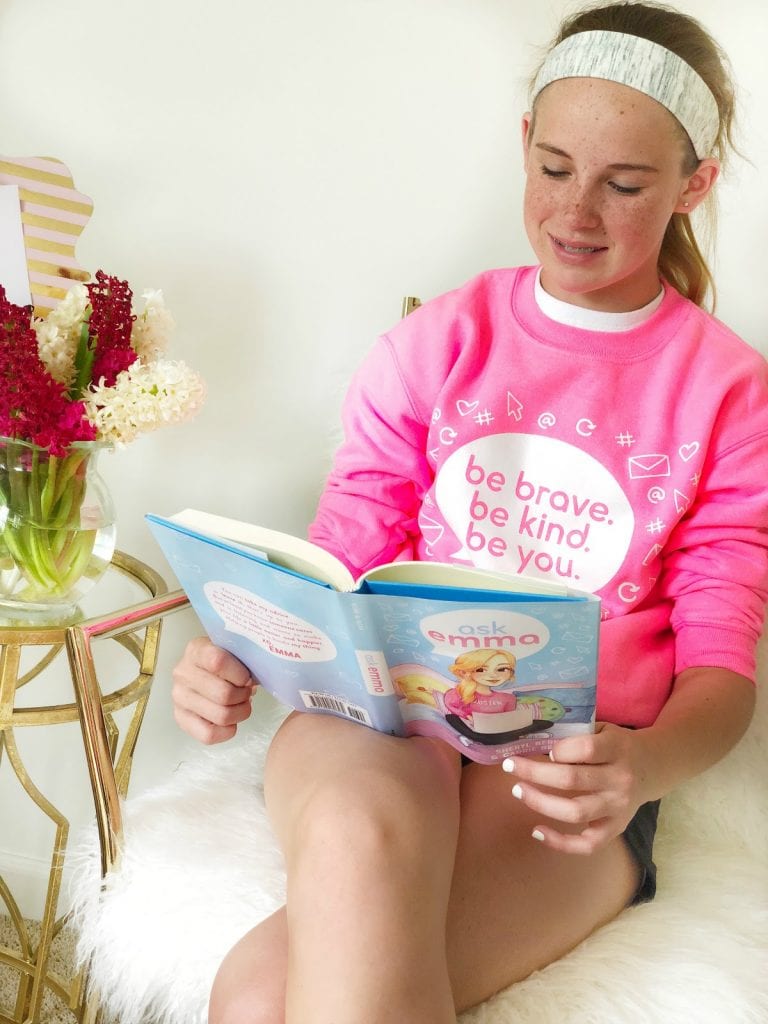 That is just what happened with
new release: Ask Emma
– a book that centers on budding author and entrepreneur, teenager Emma Woods. Emma is a girl prone to big ideas and her latest? An advice blog catering to middle school kids her age.
However, in no time, Emma finds herself navigating the land of teenagers and social media. She is bombarded with requests to break rules (how do I get out of detention or skip a quiz?) and she is suddenly the victim of some mean and hurtful anonymous comments.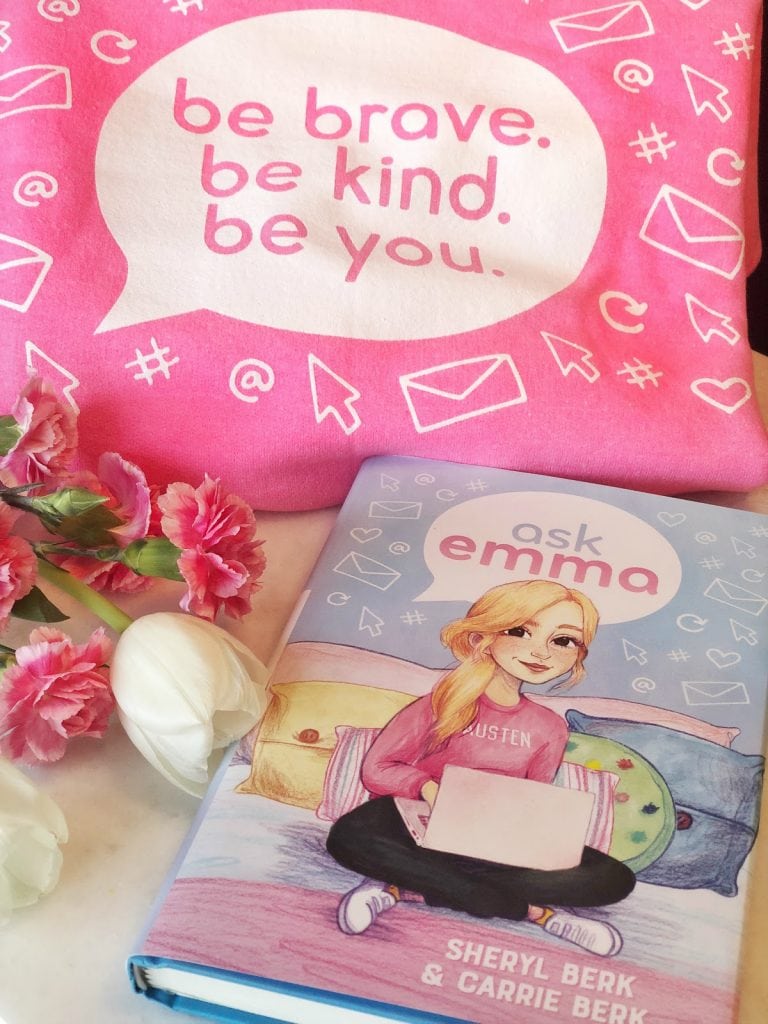 Suddenly, Emma needs to answer some tough questions – should she ditch her current dream and fold Ask Emma, or can she find a way to navigate this social space with heart, confidence and authenticity?
Ask Emma is the work of mother daughter team, Sheryl and Carrie Berk. As a New York Times-bestselling author, Sheryl is most proud of the dozens of books she has co-written with her 15 year old daughter, Carrie, including The Cupcake Club and Fashion Academy series. Ask Emma is their third collaboration.
Delaney and I were excited to have some time to interview them – asking how they generate ideas, what first inspired Carrie to follow in her mom's footsteps, and how Sheryl encourages Carrie's dreams.
Carrie began by sharing with us how she was initially inspired to write, "Ask Emma":
I was watching the movie Clueless with my mom- it's one of my favorite movies. At the end, she asked me if I liked it and I said "to be honest, it was a little bit dated." She asked me how I would have imagined the character Cher in real life, and I said I would have imagined her as an advice blogger.

Then a light bulb went off in my head, and my mom kind of got the idea too, and she showed me the movie Emma. After watching Clueless and Emma, we decided we would combine these two movies to make this character Emma Woods that would be a mix between Emma Woodhouse, from Emma, and Cher from Clueless, and she would be an advice blogger.
Delaney wanted to know (outside of her mom being an author) what inspired Carrie to pursue being an author:
I'd always wanted to be a writer when I grew up. I've known that for as long as I can remember. My mom's a celebrity ghost writer, but I felt like realistic fiction was something that caught my attention more.

So, one day I came home from school and I wrote a book proposal for my mom at age eight for The Cupcake Club. That was our first series that we wrote together. My mom just decided to pitch it to her agent because I was a cute little kid and she just wanted to make me happy and feel accomplished, but we were both shocked to hear that we actually had gotten a 12-book deal for a mother-daughter book series.
As Delaney is an avid reader and writer, I asked Sheryl how she encourages Carrie's work and passion:
I would tell you, as a mom, the best advice you can give your kid is just find time every single day. If writing is your passion and it's what you love- to write, to read- expose your kid to all different types of authors.

I've shared with Carrie the authors that I loved as a young girl, and she's shared with me the books that she's loved and read in school. I think there's a lot you can do to encourage your child to really just take that passion and run with it.
Since cyberbullying (and how to deal with it) is a central theme in the book, Sheryl and Carrie have adopted a motto of, "Be Brave, Be Kind, Be You" and hope to encourage kids to do just that.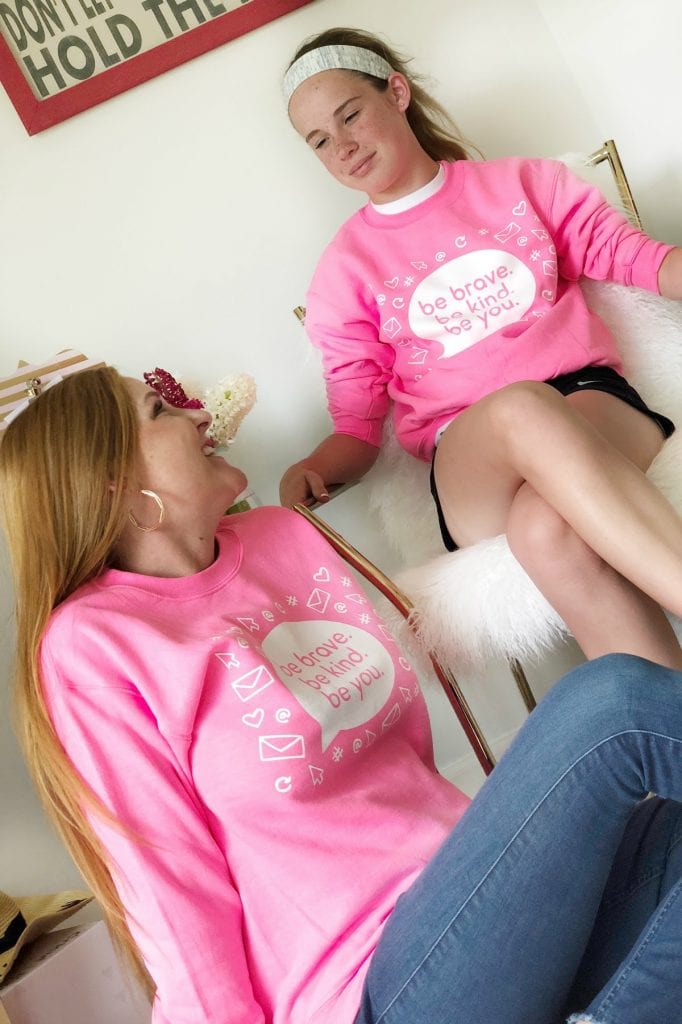 They are proud to work with No Bully, an organization committed to leading kids into a cyberbully-free world. Learn more at NoBully.org.
Ask Emma is available in stores and online now. Don't forget to check out this duo's other work – The Cupcake Club and Fashion Academy series.
Disclosure: Little Bee Books invited my daughter and I to join for a Mother-Daughter interview with the Mother-Daughter writing pair, Sheryl and Carrie Berk…as always, all thoughts and opinions are mine and mine alone.