If you haven't fully embraced pink, now is the time. It truly is one of the hottest hues of the year, and especially Spring. From clothing to beauty products and accessories, it's one of the most universally flattering and wearable colors out there. Get ready to jump on the blush bandwagon with these pretty in pink finds.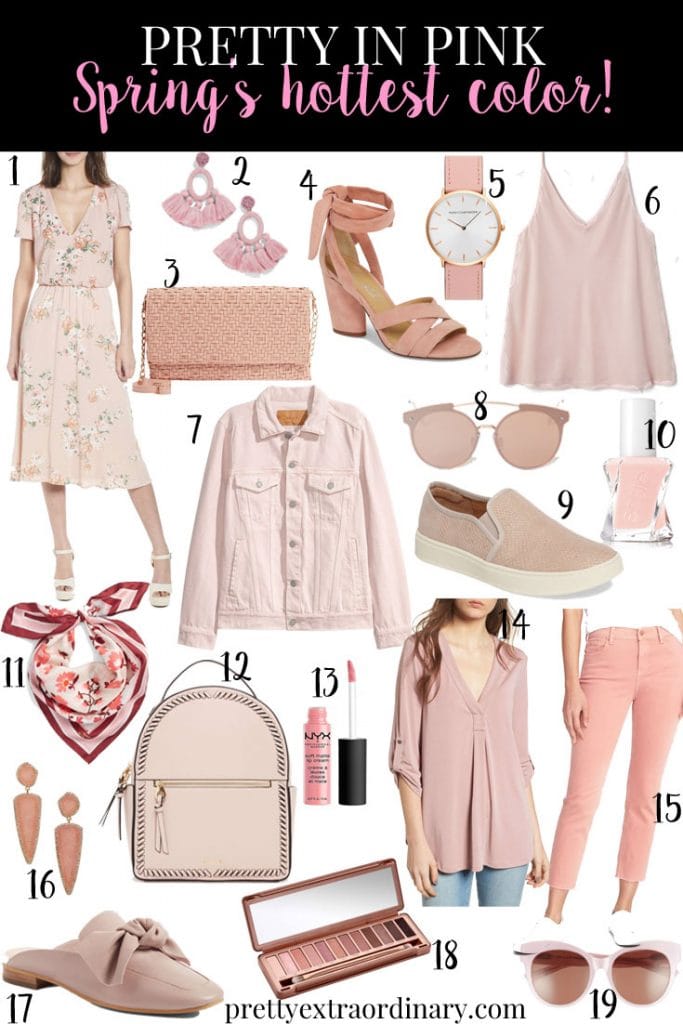 1 | 2 | 3 | 4 | 5 | 6 | 7 | 8 | 9 | 10 | 11 | 12 | 13 | 14 | 15 | 16 | 17 | 18 | 19
Clothes
If you have any special events this spring like graduations, showers, or even casual weddings, this blush pink midi dress is perfect. It'd also make a great wear-to-wear option and could be paired with a blazer. Other great work to weekend pieces are this henley and this camisole. They could be easily layered up for the office (Pair them with blazers or light cardigans!) and paired with denim on the weekends. For casual outfits, you can't go wrong with a little pink denim. I love these jeans, and this denim jacket is the perfect outfit topper.
Shoes
What I love about blush pink shoes are that they are a true neutral. Treat them just as you would a tan, and wear them with everything. These slip-on sneakers are calling my name for everyday outfits. I'd wear them with everything from t-shirt dresses to shorts and tees. I also love these slip on mules. They could easily be dressed up or down. And if you really want a statement shoe, these lace-up heels are simply gorgeous.
Accessories
If you're just testing the waters and are unsure if pink is really for you, adding an accessory or two is the perfect way to try it out. Start with a fun piece of jewelry like these tassel earrings (You'll wear them with everything.) or these slightly dressier stone drops. A silk scarf is another small piece that can make a big impact. I love tying them in my hair, wearing them around my neck, or tying them to my handbag. Want to be super-trendy? These sunglasses fit the bill. This backpack is also another on-trend but totally wearable piece! . love this woven clutch for special occasions. If you prefer more classic accessories, you can't go wrong with this watch or more classic pair of cat eye sunglasses.
Beauty
Want to branch outside of the typical clothing and accessories? Try adding a pop of pink to your beauty routine. I love these polishes by Essie, and Fairy Tailor is the perfect pale pink. If you're looking for an affordable lipstick option, you can't go wrong with this formula from NYX. Try Tokyo for a pretty pink. And lastly, this eye shadow palette has the pretty range of blush shadows that will work for a variety of skin tones.
What's your favorite way to wear blush pink?