Let's get the important stuff out of the way first, shall we?
Country music singer. Grammy Award nominee. Sold more than two million copies of his debut album, Montavello.
Five singles and four number one hits.
Fair, yes?
One Sam Hunt. And this Sam Hunt plans to 'be more vulnerable' on his next album. MORE VULNERABLE.
As much as I have always loved his music (I have both a Pandora and Spotify station dedicated to him), I found that meeting him aboard the Carnival Splendor in advance of his nearly sold out #CarnivalLive experience exceeded my expectations for him as both a person and artist. Performers who have seen the level of success that Sam has seen in the past nearly two years often find themselves unable to relate to the average person (read: including the handful of media in our interview). Hunt, in comparison, was humble, gracious and clearly passionate about the path he is traveling as a country music artist a member of his band and simply as a man.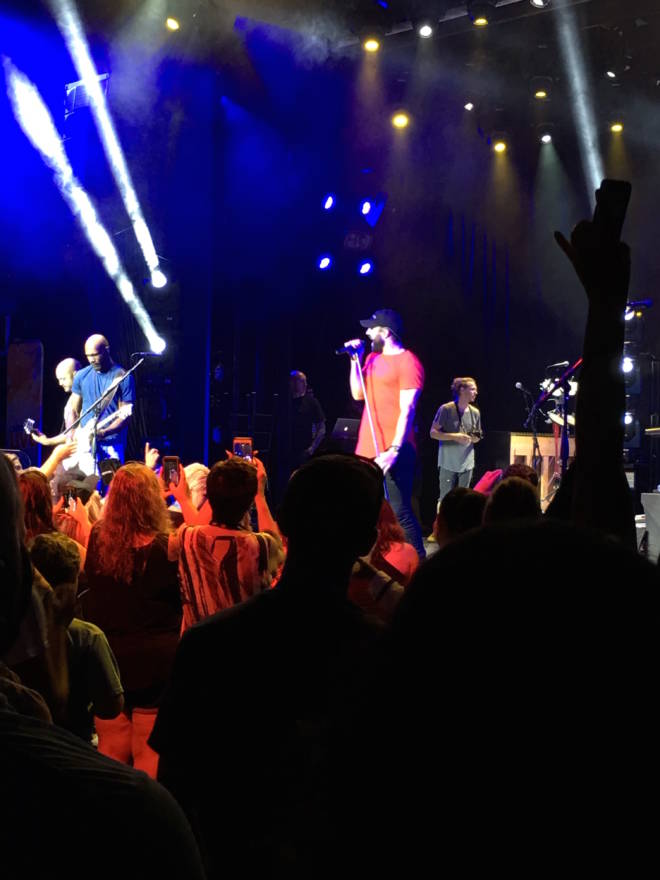 I already hinted that he shared his desire to be 'even more vulnerable' on his next album, but I thought you, Sam Hunt Music Fans, may also enjoy a few additional highlights…. (or you can listen to him to get you warmed up first – you're welcome – ACOUSTIC)
11 Things You Need to Know About Sam Hunt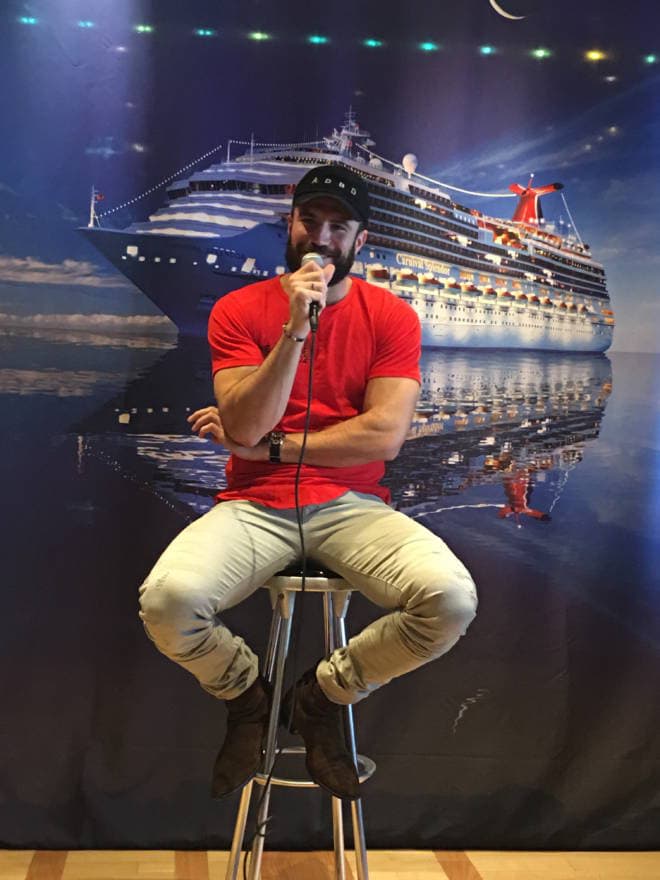 There is no official date for his next album – I know, I know…it has now been two years since Montavello was released and House Party, Make You Miss Me and Leave the Light On became regulars on our playlists, but, as Hunt explained, "Of course I feel pressure to keep the bar up. Fortunately, the music from the first record really connected with people and I was really proud of that." He continued, "I put music out when I feel like its ready. I have a few songs I'm excited about."
The pressure is real, but so is the creative freedom from his record label – While acknowledging the pressure he feels to put out his next record, Hunt was clear on his gratitude for his record label (Universal Music Group Nashville) and their willingness to give him creative freedom, "There is some pressure from the label – maybe I'm putting it on myself – but that's part of their hob. They have a business to run – it's based on putting music out and making money. I get that but I won't ever let that influence the way I go about creating music".
Loves intimate settings with fans – Beginning with his first headlining tour a year and a half ago, Lipstick Grafitti, Hunt and his band have played everything from amphitheaters to the House of Blues, but he has a soft spot for smaller venues like the one experienced by #CarnivalLive concert goers, " I hope I can always incorporate intimate shows into what we do because I feel that's where music translates best".
Favorite Color – Red, Favorite Food – Peanut Butter – Look – Sam is just like us….or at least like me. These questions answered in response to one reporter's request from her children reminded us how purely real he is. Why Red? Georgia Bulldogs, of course. Also, his high school mascot and "it's a good strong color". And peanut butter? He described it as his 'go-to' and the 'one thing that will satiate my hunger no matter what'.
He will write his next record – Though he is "trying to write with a few new guys for fresh perspective", he is ultimately committed to sticking with his own writing and collaboration from the writers on Montavello, "I plan on writing everything. My hope is the next record – I want to be even more vulnerable and more honest than I was on the first record even – that's obviously going to require me to write the songs if I'm going to tap in to my own life".
Hunt no longer has plans to write songs for other artists – Though some of his first success was as a song-writer – with songs like Keith Urban's Cop Car, Kenny Chesney's Come Over and Billy Currington's We Are Tonight – Hunt  says he never wrote with a specific artist in mind, "The success I had as a songwriter came when I just decided to start writing songs that I liked for myself – even though some of those songs didn't necessarily fit me as an artist – I was writing songs that I would be ok with singing". But his focus now is solely on music for his next record and his fans, "If I had the option to write just for other people and just write in general – I would love to do that, but I've had to focus all those studio sessions and time back home working on the next project".
Putting his focus on 'being the man he wants to be" – This is an artist who is intent on focusing on both his professional and personal life – and growth. "Balance" and his need for it were a recurring theme during our interview, "I'm a lot more proud of where I am now in terms of the man I am and the man I want to be than I was when my head was spinning twelve months ago. I've realized how to surround myself with the right people and put myself in the right environment".
A mutual love for Country music is the glue that binds him to many of his fellow artists – I loved listening to him talk about what allowed him to bond with some of his current country music artist friends, "I remember being on a bus with Cole Swindell and he played me the song, 'You Should Be Here' about a year and a half ago. I was just getting going. We bonded over country music. He played me some of his songs, but then we listened to Brooks & Dunn. We listened to 90's country music the whole night on the bus just hanging out. We became buddies that night over being fans of country music".
Hunt doesn't have a specific charity as a partner, but has a heart for children's charities – Let's be honest, any artist that makes time to give back is a champion in my book. When asked if he has a single charity that means the most to him, he talked about his recent visit to St. Jude's Children's Hospital in Memphis and the impact the time there had on him.
It takes him "forever" to learn a song that isn't his – When asked about including cover songs in his concerts, he admitted there are lots of songs he'd like to do, but, "It takes me forever to learn a song – lyrically, I can't memorize a song". So he has decided to stick to current country music like Dierks Bentley, Thomas Rhett and Luke Bryan, "Why not do songs people know? These are country music fans – they are going to know these songs".
The small moments matter: With the whirlwind of success Hunt has seen in the last 18 months, I asked if there was anything specific that hit his 'highlight reel', "It's funny, you would think the big moments would be the time you'd be blown away and have that surreal feeling, but for me it comes in the quieter times – when I'm sitting back stage and able to actually reflect on where I am – literally – where I am and where I am in my career. Based off of our humble beginnings and how far we have come – which wasn't that long ago  – that hits me all the time and I try to hold on to those moments".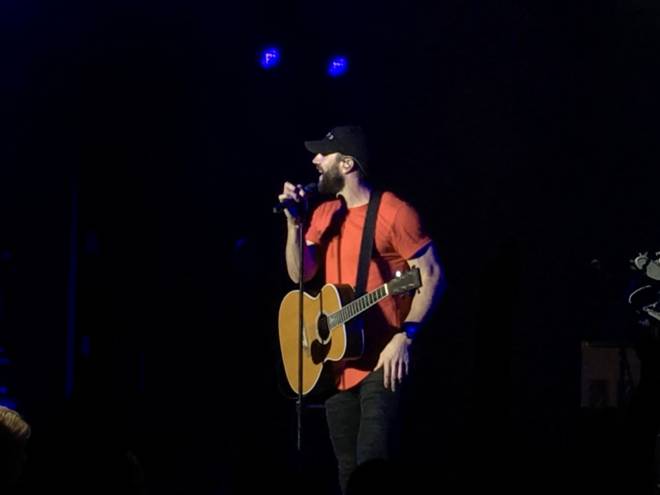 And a bonus: Yes, he has a girlfriend. Sorry, Ladies. This man is taken. He didn't call her by name, but mentioned 'his girlfriend' and the importance of prioritizing, "having time to see my family and have a love life". Good for him.
Disclosure: A million thanks to Carnival Cruise Lines for the opportunity to join them on this #Carnival Live experience, see Sam Hunt in concert and have the chance to interview him. A reminder: to learn more about the future CarnivalLive experiences – go here.