I know Fall may be on the brain, but Summer is still sticking around for a bit longer. So today we're talking the best of both worlds: sandals under $100 that you can wear now and straight into Fall!
The key for selecting sandals with the most longevity is neutral colors. Also materials like leather and suede are perfect transitional shoes. Look for heavier details like metals accents too! You'll be wearing these sandals for the next several months!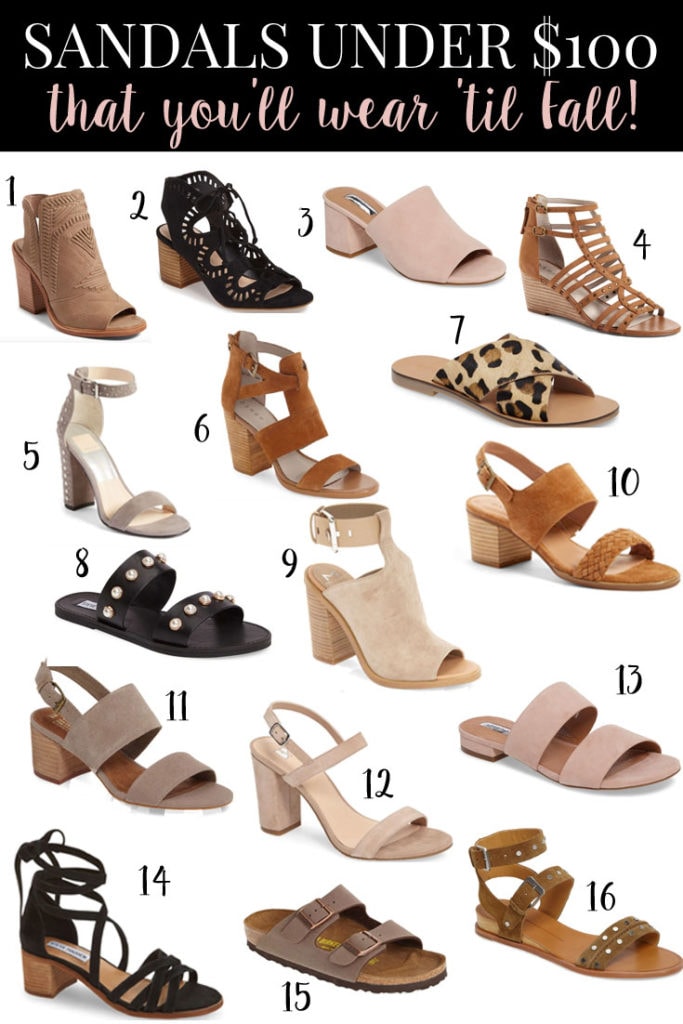 1 | 2 | 3 | 4 | 5 | 6 | 7 | 8 | 9 | 10 | 11 | 12 | 13 | 14 | 15| 16
Slides have been big the past few seasons. #13 is the perfect neutral. (It also comes in several other colors!) The calf hair of #7 and studded details of #8 are Summer-to-Fall-ready. And if you haven't tried Birks (#15), you need to. They're a classic and seriously so comfortable!
If you want a more classic heeled sandal, go for #12. #5 are a bit trendier of an option with a studded heel detail. Lace-ups like #14 are perfect for everything from dresses to shorts to jeans. And #10 and #11 are a perfect lower height for women on the go!
For a true Fall transitional shoe, try a bootie style. #1 has great details, and I love the cut-outs and lace-up of #2. For a bit more of a summery look, #9 is just a pretty light neutral.
For a super-trendy option, go with a mule. #3 comes in five colors, but I love this pretty wear-with-everything blush. And these wedges (#4) would be so pretty dressed down or up…..like with a perfectly detailed t-shirt.
What are your favorite sandals?