With every new season, come new trends. But it isn't just about revamping your wardrobe. It's also about embracing new beauty trends…and even as we wind down, it's a great time to embrace a few new options. Summer is one of the best times to do it because these trends are playful, fun, and perfect for mixing up your routine!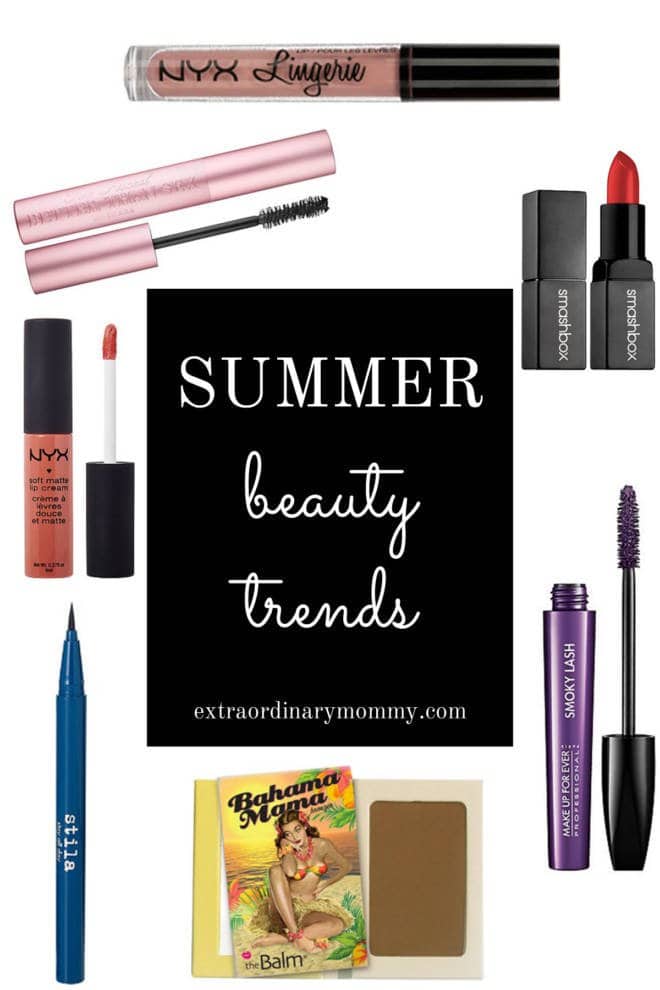 Matte Lipstick
Matte lipstick has always been a classic, but right now it's one of the top trends in the beauty world. If you're feeling bold, go with a timeless red or a fun and Summer-appropriate coral. If you're a less-is-more kinda gal, embrace nudes. They are just as popular! My favorite brands include Smashbox and drugstore brand, NYX's Soft Matte Cream or Lingerie Liquid Lipstick (the best for nudes!).
Major Mascara
Bold lashes are always one of my favorite beauty looks, so I'm thrilled that it's the current go-to for Summer. Really amp up the look of your natural lashes with a volumizing formula like Too Faced Better Than Sex, or get playful and enhance your eye color with colored mascara. Brown-eyed gals will benefit from a color in the purple family. Blue-eyed beauties should go for navy or turquoise, and those with green eyes should go with a deep burgundy. Make Up For Ever has a great selection for all eye colors!
Blue Liner
Although the thought of blue liner may bring back horrible memories of blue lids from the 80's, this look is much more tailored and very wearable! Try just a thin line of blue on your top lashes or try a more dramatic look by also lining the outer corner of your lower lash! Ulta makes a great gel pencil and Stila has a top-rated liquid liner!
Bronze Skin
Bronze skin and Summer just go hand in hand, don't they? But it shouldn't come at the cost of sun damage. Fake a pretty glow with bronzer, but just stay away with formulas that contain shimmer or glitter. Matte will look most natural. Dust it along areas where the sun naturally hits like your cheek bones, nose, and forehead for a sun-kissed look! Try Bahama Mama!
Pinks and Oranges
Pink is such a universally flattering color on all skin types. So embrace your inner girly girl and try a pretty pink shadow. (They mix perfectly with browns for a very natural look!) Or if you're feeling more bold, go with oranges for a punchy Summer eye! The Naked 3 palette has pretty options of both of these shades!
What is your favorite beauty trend for this Summer season?