At this time last week, Sunday evening – it felt just like any other week. 
I was feeling grateful for my family, tickled by my kid's antics and slightly overwhelmed by the week to come.
Little did I know.
But as crazy as the last few days have been – I find myself in much the same state of mind. 
I'm even more grateful for my family than I was last week (if that is possible).  My husband has proved time and time again that he is my biggest supporter, and my kids – they are just pure joy.  Their antics are approaching new heights and they manage to make me giggle 7 times a day and laugh out loud at least 5.  And, yes, I'm looking ahead to this week – and I am more than a little overwhelmed.
So – I will share my two favorite photos from the last few days –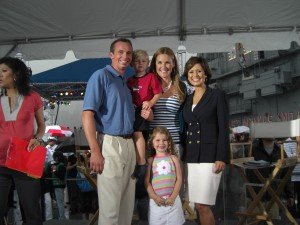 This picture illustrates the 'why' of us being in New York City – to be on The Early Show on CBS – talking about our crazy picture story…
But this picture shows 'us' – and illustrates one of the many reasons I adore my family: We just have so much fun together.  We waited in line twice to dance, run, and sing on the life size piano in FAO Schwartz – just like in the movie Big.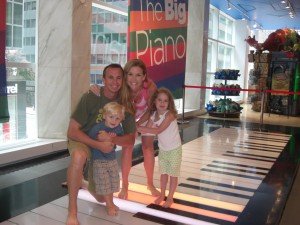 So – let the week and craziness begin!  Hopefully, I'll feel exactly the same come next Sunday evening.