I'll admit it.
I bribe my kids. Especially for the tough stuff like potty training.
For Delaney, I used M&Ms, gummy bears,  promised a Disney Princess Fairytale book (which she still has and KNOWS was her potty training reward) but at the time very little worked.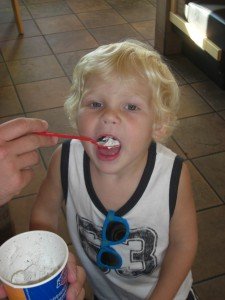 Same thing with the small dude.  While you are wheedling them with the bribes – they aren't interested, but DAMN – once they succeed, you better be ready to pay up.
We offered Coop M&Ms, Skittles, a trip to the go-carts, ice cream…and the list goes on.
Tonight we paid up – at least for the ice cream – the go-carts?  Well that is another day.
(And for the record – Coop does typically appear as if I have brushed his hair sometime this decade….just not tonight)