We are one-quarter into the new year already.
I'll pause for a moment to let that sink in…
It's crazy how time buzzes by, isn't it? The days move forward at lightening speed, and here we are, a quarter of the way in, and I'm already assessing how the year is going starting with some of my fitness goals for 2018.
I finished out 2017 by getting more involved in a local Crossfit gym. This little foray into the world of Crossfit came about because my daughter wanted to do it but she didn't want to be alone. She's only 11, and she's stronger than most grown ups, so she was cleared to do the adult workouts, but she was intimidated.
Enter Mom of the Year! (I'm expecting the 2017 title to be handed to me any day now).
I reluctantly agreed to start working out with her, not at all sure about this Crossfit thing. But then a funny thing happened: I started having fun.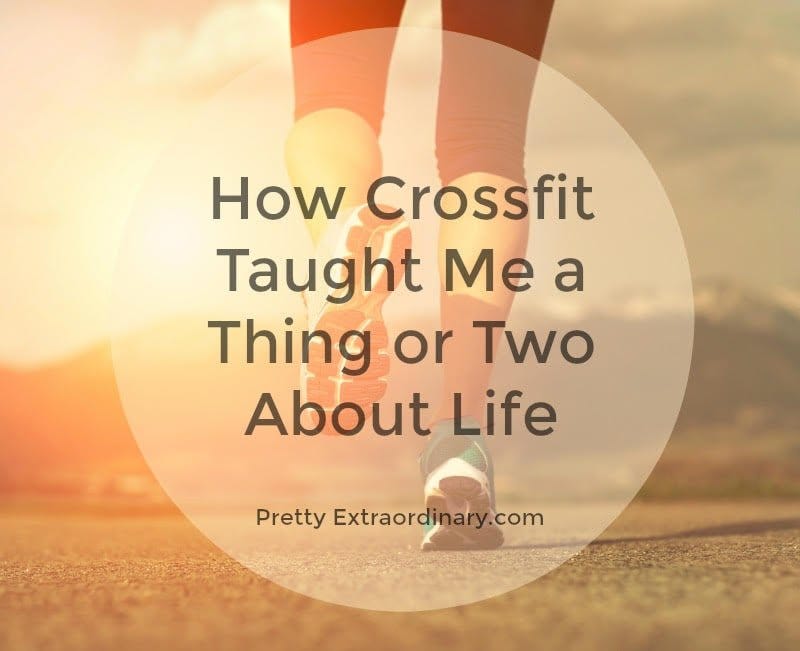 Now, I'm not really good at Crossfit yet, and truth be told sometimes I'm not sure I want to be, because the "good" cross fitters intimidate me just a wee bit. But I 
am
 finding that the consistent workouts inside a supportive community geared toward pushing one another to the next level is wildly energizing in more ways than simple fitness.
I want to be better in all areas. I want to attack life a little more deliberately and intentionally.
Who in the world knew that so much could be learned from a few Clean and Jerks, and Snatches?!
(Do you like how I threw in that awesome Crossfit lingo there? Because I'm so hip and cool?)
So what's my point and how does this apply to you? Stay with me for a minute longer.
When I go to a Crossfit workout, I am usually the girl with the least amount of weight on her bar. On more than one occasion, even my 11 year old daughter has been lifting more weight than me. At first this bothered me, but then I shifted my perspective.
I gave myself the permission to build up slowly toward harder weights. I've also given myself permission to say "I don't know if I ever want to lift that much. I'm okay staying right here with this one little plate."
I don't want to burn myself out, to reshape my body in a way that was unintended, or to get hurt. I'm allowing myself the freedom to say enough if I feel that I must.
There's a parallel to real life here, you know.
In all of life, we need to be willing to offer ourselves the space to work, and live, at our own pace. If we're constantly trying to lift at the same speed as the person next to us, we may find ourselves frustrated, exhausted, or stuck in a cycle of self doubt.
Just as my path inside "The Box" (that's fancy crossfit jargon for "the gym"…or so I'm told) isn't going to look the same as the girl with no children and two hours each morning to work on her strength, so your path isn't going to look the same as those around you.
Offer yourself grace in mothering. Don't expect perfection or big things from yourself every single day. If you hate the kitchen, and cooking makes your skin crawl, perfect a few CrockPot recipes, and leave the fancy Pinterest meals to someone else.
If you're working to develop a career, don't attempt to match the pace of someone else. Each of us are at different stages in life – some with young children still at home needing lots of extra attention, some with older children who offer a little more space in the days. Some have multiple children, or no children, or one child. Some are single parents, while others have an active co-parent at home.
The point is, your path is never going to look the same as the next person's so don't get stuck in a cycle of trying to keep up.
Wherever you are in your journey, be it professionally, personally, fitness-oriented, and so on… I pray that you find the freedom to develop and grow and accomplish goals at your own pace. Link arms with others who are in similar places, and let yourself be motivated and encouraged by them, but don't try to replicate their journeys.
You have a journey of your own – a path to forge that's different from any one else's.
I pray this year you find your own stride.
SaveSave