So, I'm excited about BlogHer – and I consider myself to be a helpful kind of girl, yes?
Waaaaaay back when I had told the Room704 crew I would be happy to help deliver party swag to BlogHer, because I am driving – much less expensive transport, ya know?
The amazing Mommentator had offered too.  And the mother-load was delivered to her house.  When I saw the AMOUNT of boxes, I thought to myself, "hmmmm – there is NO CHANCE she will get that all in her car to Chicago….I don't care if she drives a passenger van".  That thought was quickly followed by, "why don't I help – we don't live so far away from each other". I figured that way, Mommentator wouldn't be forced to borrow a neighbor's semi to deliver 🙂
Today, we met half way between St. Louis and Kansas City and loaded up my car.  Bonus: I get real live hugs from Mommentator.
So…this is us after the transfer. (Isn't she fabulous??)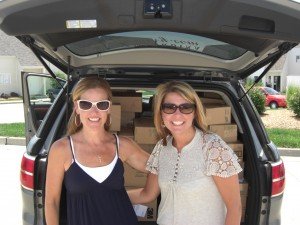 And this is after I arrived home.
(Updated September 16, 2018 – Video no longer available)
And….after I unloaded.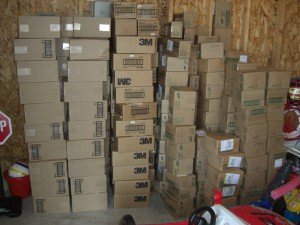 What?  You can tell they are organized by size?  And you think I'm a bit of a nerd?  Well, maybe I am.  And it will make for easy packing when I head to Chi-Town, yes?
Looking forward to a fabulous Par-tay, Room704.