Getting away from it all has been a top priority for me lately.  Sometimes it is as simple as shutting my computer completely, turning off my phone and tuning in entirely to my family, but sometimes even that isn't enough.  As much as I love the concentrated time, as much as my small people are thrilled at the prospect of a mom who isn't even vaguely distracted by the digital world, there is something special about truly escaping the day-to-day of your home and everything that distracts you.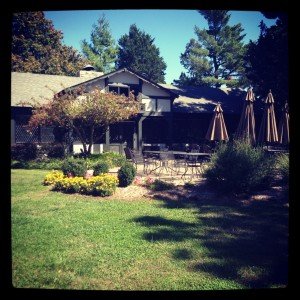 It isn't often I have the opportunity to simply get outside and witness my children experiencing nature and using their imagination to keep them entertained.  There is so much noise surrounding us, distracting us, keeping us from focusing on true play and each other. My small people are involved in many sports, and of course, Jeff coaches them in virtually everything, but we really needed time for all of us to just 'be'.
On this particular weekend, we drove about an hour to the west of our St. Louis suburb and took when can only be described as a glorious step back in time. We knew we were visiting the Cedar Creek, but didn't know entirely what to expect. But promises of trails, a golf-course, a chance to fish on a 7-acre lake couldn't have prepared us for how we felt while we were there: connected, peaceful and completely in touch with each other and the outdoors.
We arrived on a Saturday afternoon and left on Sunday, and yet it felt as though we spent days in the wide open space.  I held by breath and watched my sweet ones run.  Just run… through open grass, among trees, eyes and ears open wide – watching and listening for anything that might catch their fancy.
There were acres to explore.
There were baby frogs to find, hold and name.
There was food to taste and an on-site brewery offering tastings.
The small people golfed on a real course for the first time. Daddy lead the way and gave lessons.  It was beautiful to see. After much begging, we even let the small girl take the wheel of the golf cart.
I loved the history of Cedar Creek.  For Patrick Vatterott, it is a labor of love.  The property has been in and out of his family over the years and he is now completely in charge and making some amazing changes.  Inviting us to visit allowed him to see what the 'family' experience could truly be as so many of their guests have been conferences and retreats.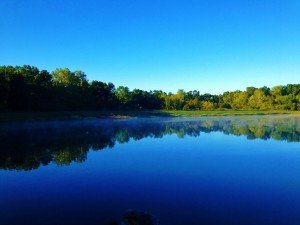 Calling a space this extraordinary a 'conference center' (as it used to be called) doesn't do it justice… because you simply can't imagine the way you can take a deep breathe as you take in the view of the hills, the trees… the acres.  You don't visualize the way your family will be welcomed, settle in to one of the homes (like the one in which we stayed) wrapping the history around you like a warm blanket.  You can't picture the way your mind will quiet as the rest of the outside world falls away  when you take in the view of the small lake first thing in the morning – fishing with your family (even when you can't claim 'fishing' as a talent).
Jeff and I sat on a beautiful deck mulling over the possibilities… is Cedar Creek a resort? No.  A retreat? Maybe.  A hideaway? YES.  It is a hideaway.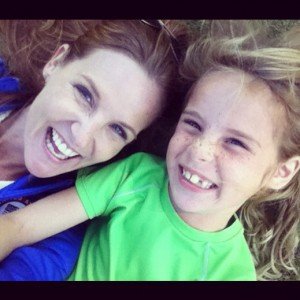 As we packed up to go home, my small girl looked right at me and said, "Mommy, this was more fun than…..***** (fill in the blank with well known indoor amusement park)".  I couldn't stop smiling.  Or laughing. Did I mention how much I laughed with my family in this 24 hour period?  It was divine.
Cedar Creek gave us two very beautiful gifts: solid, quality family time – we truly focused on each other as we explored everything they had to offer and an amazing location that allowed my children to run, play, explore and use their imaginations.  I'm truly grateful to Cedar Creek and Patrick for the invitation. This was the perfect family weekend getaway right here in Missouri.