Six days.
144 hours.
That is the extent of my official Olympic experience…but the love and lessons will stay with me so much longer.
If you've been following any of my Olympic coverage, you know I owe the experience to Procter & Gamble.  They asked me to come to Vancouver to share, in my own words, the Olympic experience, as well as the beauty and gratitude that surround the P&G Family Home.
It may sound cliche to call this the opportunity of a life-time, but that really is just how it felt.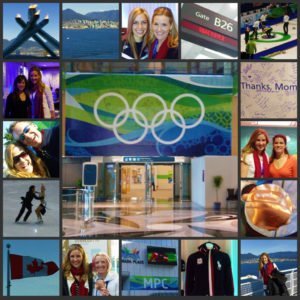 I could rattle on for hours about my thoughts on the Olympics Games, the 50 degree temperatures, the Canadian Pride, the aura surrounding an actual Olympic event (I went to Ice Dancing and Curling), the jolt I got from visiting the Getty Images crew, the Olympic Flame, those darn-cute Olympic mascots (my kids adore Muk-Muk), or the flashbacks to my Canadian Childhood (Canadian bacon, brown sugar and toast with butter and jam, anyone?)
But I promise to keep this shorter than that.
I have always loved the Olympics – even as a little girl I was mesmerized by the drama – the punch in the gut of a fall, the pride stretched across the faces and chests of the athletes wearing their country's colors, the tears and sacrifice that combine for a win….a bronze, a silver, a gold.
I loved walking the streets of Vancouver…..the maple leaf decorated hats, store windows, cars and, of course, mittens.  The volume would increase as Canada's stakes in the medal count continued to climb.  When Jon Montgomery won gold for skeleton, strangers high-fived in the dark, yelling, "did you hear?"  And when Joannie Rochette's mother passed away the Saturday before she was slated to compete…..Canada wasn't the only nation crying for her.  To say nothing of the fact that Joannie put her skates on and competed…..she skated for her mom – that was evident.  And, wow….what a proud mom she must have right now.
Which brings me to Moms….and the true reason I spent time at the Olympic Games.  You saw the P&G commercials, right?  I stubbornly wiped my eyes every time I saw them….knowing my husband was preparing to tease me for over-active 'mommy emotions'.  But you know what?  I can feel those commercials.  They are right on when they say, 'to their moms, they'll always be kids'.  That's how I feel now and my small people are…well….small.
Every mom I met in the P&G Family Home.….every athlete I talked to recognized that bond.  These moms stand in the rain for 10 hours to watch their kids ski down a mountain.  They get up at 4am to get them to an early practice before school.  They travel weeks out of the year, witnessing growth and setbacks from the sidelines.  They feel the joy of a win and the pain of defeat.
And for all of that….this was a chance to say Thank You, Mom.
I now understand that willingness to sacrifice.
Given the opportunity, I'd do it too….my kids are my world.
A few Olympic highlights for me if you haven't had a chance to see them:
Chatting with Bronze Medalist Shannon Bahrke and her brother (and fellow Olympian) Scotty.
Julie Chu – Silver Medalist for Women's Hockey.
Speed Skater, Allison Baver.
Chad Hedrick and family after he won the Bronze Medal for Speed Skating.
Putting the spotlight on the Thank you, Mom Campaign.