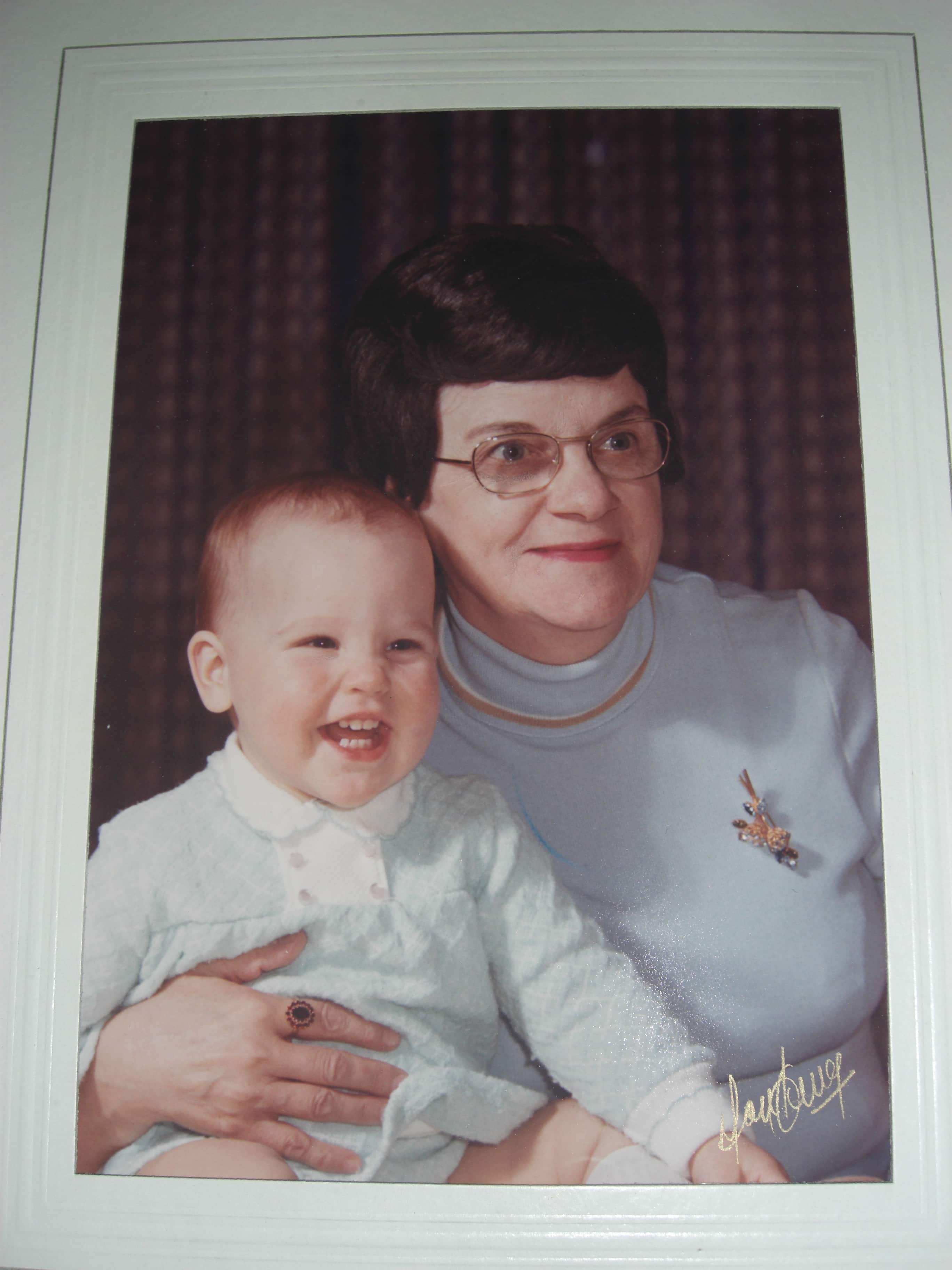 This beautiful lady you see in this picture is my grandmother.  She is posing with me on my first birthday, 30-some years ago.  At 95, she is the only grandparent I have left, and the only one I have ever really known.
For my entire childhood, Grams, or Grammy as I call her (she calls me darlin') spent at least 4 months of the year with us…one month at Christmas and 3 months over the summer.
She always arrived from Canada with chocolate chip cookies and rice crispy treats that were divine (to this day, I can't eat anyone else's rice crispy treats b/c they just aren't as good as hers).
She is a tremendously private person, but so sharp and quite funny.  She wouldn't hesitate to ask me to grab her 'another glass of hooch' (of course once I was an adult).  But she spoke very little about her past, revealing little insights here and there.  This sweet little lady wore the very same dress to my wedding that she wore to my parent's 30 years before. She refused to get another dress when she had this perfectly good one in her closet that she had only worn one time.
She is stubborn.  She was the youngest of 5 girls.  My dad is her ony child.  She separated from my grandfather when my dad was a teenager.  My grandfather died before I was born, when my dad was only 21 years old.  She lived alone for more than 50 years before she was moved to an assisted living facility a few years ago.  She has alzheimers. She usually knows me when I call, but often doesn't remember that I'm married or have children.  She doesn't realize that Mom and Dad don't live close by…and is always surprised to learn I'm out of the country too. She was, until last Friday, in remarkable physical health for her 95 years.
I am sick to my stomach just thinking about what she has been through in the past week.
Last Friday she apparently fell.  And then apparently she fell again on Saturday.  The story is all very hazy since the assisted living facility didn't call my parents to notify them until Saturday (and, at the time, didn't mention this was her second fall).  And they left a message at my mom's work. Not home. Not cell, but work.  On a Saturday.  They said they found her asleep on the floor and she was refusing to go to the hospital.  They left a second message on Saturday night.  Again at Mom's work.  This time saying they had taken her to the hospital and she had a broken wrist and was complaining of  back pain.  The hospital gave her percocet (pain killer) and sent her home with NO ADDITIONAL MEDICATION.  Of course, my parents didn't learn any of this until MONDAY at 9am (West Coast time…Grammy is in Eastern Canada)
I'll avoid the details of all the back and forth, but my parents have fielded one lie after another as they have tried to find out what is going on.  There was no one 'in charge' available to talk to Mom or Dad on Monday.  When Dad tried to talk to Grammy, she refused his call saying she was in too much pain.  Dad could hear her crying and yelling out in pain (still no meds for the pain).  I talked to her briefly and she put on a good front for me.  She said, "Well, Darlin', I'm not quite feeling 100%." (she's strong like that….really doesn't want anyone to know she's hurting) It wasn't until Tuesday that we found out she had fallen first on Friday.  And it wasn't until yesterday that we were told she has A BROKEN BACK!!!  And, this news is from the x-rays done on SATURDAY.
My sweet little 95 year old grandmother (who cannot be an advocate for herself b/c of the alzheimers) has had a broken back for days, crying out in pain, with no pain medication.  They finally got a doctor in to see her today.  In addition to the broken wrist and broken back, her stomach is distended.  We don't know why, but the options aren't uplifting.
So…at this very moment, she is at the hospital, having just had x-rays done (which caused her tremendous pain. The women who would smile through a broken bone instead of admitting to the pain was crying and yelling out during the tests).  The only bright light in all of this is that my Dad is now with her and will make sure she is taken care of.  She is comforted in the presence of her only child.
I am so angry.  I am so disgusted.  I am appalled.  I have cried.  I have sworn.  I have a headache.  My parents are distraught.  They are exhausted….yet nothing compares to what Grammy has been going through.  This isn't an oversight…this doesn't only warrant 'an investigation' as the management company has claimed….this is pure negligence. My grandmother has been treated is such a despicable fashion….a dog wouldn't be allowed to wallow in pain with a broken back for DAYS without a doctor or medication.
Must stop now.  Must say sweet prayers for Grammy.  Must send her love and positive energy.
I told Mom, I think I was prepared for her to pass away.  She is 95 and has lived a full life.  But nothing could have prepared me for this.
Goodnight, Grammy…we love you.