She learned the National Anthem as she pictured herself winning a Gold Medal at the Olympics.
It was during a wonderful conversation the other night with former Olympian, Vonetta Flowers that I began to see the woman behind the record setting Gold Medal for bobsledding. It was so much fun to chat with someone who has accomplished something I have only dreamed of….
9 year old Vonetta Flowers could run faster than most boys she knew.  With a track coach who saw something special as he watched her run, and a mother who believed she could do or be anything she wished, this young girl grew up grasping for gold.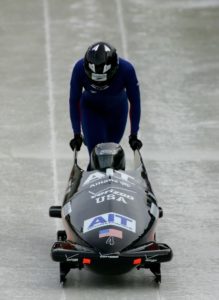 In 2000, after what felt like a lifetime of training and competing in track and field and singing that National Anthem, Vonetta's husband noticed a flyer advertising tryouts for a newly forming bobsled team, "The only thing I knew about bobsledding was what I had seen in the movie, Cool Runnings.  Trying out was like a joke at first, but God had been preparing me – without the years of track and field training, I wouldn't have been successful."
Since I am clearly not a bobsledder, Vonetta was kind enough to explain the traits needed to excel: Bobsledders need speed and power, two things Flowers possessed in excess.  So the 'push' was what she had to learn – and after 18 months of training in Germany, she had it mastered.
In 2002, at the Salt Lake City Winter Games,  Vonetta hit one milestone after another. (Can you believe she told me she doesn't get nervous??  Just anxious because she had to wait until close to the end of the Olympic Games to compete)  It was her first Olympic Games as a bobsledder and it was the first Olympic Games for the Woman's bobsledding team at all.  They won Gold – in their inaugural year, giving Flowers yet another distinction – the first African American woman to win gold at a Winter Olympics.
Like me, Vonetta is now a mom – she has 7 year old twins and a 7 month old baby.  But the busy lifestyle at home hasn't slowed her down a bit.  In fact, she has turned some of her attention to helping women look and feel their best.  She is working on behalf of the Procter and Gamble brands that make her life easier, "My travel and training schedules can make life pretty hectic so I'm glad I can find products like Pantene, Secret and COVERGIRL at the local drugstore wherever I may be."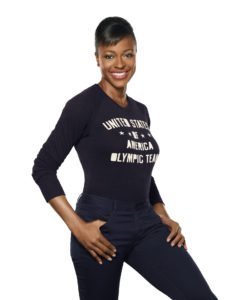 She confided to me, "I'm never pampered anymore, so products like these are great.  Secret lasts – I can put it on, even at night and still be fresh in the morning."
And she is singing the praises of Pantene, "I constantly battle dry hair and need products that are easy and accessible.  Pantene Relaxed & Natural Moisture Shampoo and Conditioner for women of color that helps keep my hair from breaking  during styling and leaves it smooth and moisturized."
Vonetta credits much of who she is today to her own mother, "She is my best friend.  She has been through it all.  I wouldn't be here without her."
Like so many of us, Vonetta recognizes the importance of moms in our lives.  Procter and Gamble is taking an extra special step to honor those special women – the moms who live Olympic Core Values: Excellence, Respect and Friendship.
Head to ThankYouMom.com to nominate a mom you know who is living those Core Values – the winner, and the mom she nominates will win a trip to the 2012 Summer Olympic Games in London to cheer on Team USA.
If you haven't seen the P&G Commercials for the ThankYouMom campaign – I will warn you – they might make you cry. ( I did.)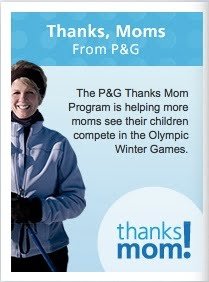 I am extremely proud to be heading to the Olympic Games in just a matter of days to represent Procter and Gamble and to give you an up close look at their Family Home and the many athletes and families they are supporting. The ThankYouMom Campaign is magical.
(Here's a teaser for you – I chatted with Gold Medal Speedskater (and dad) Chad Hedrick and Skeleton World Cup Champion (and mom) Noelle Pikus-Pace today – those interviews will be up tomorrow)
Joining me on this tremendously exciting experience – three other fantastic bloggers:
Nicole Feliciano of MomTrends is in Vancouver right now.
After me, Isabel Kallman of Alpha Mom, and April Hussar of Betty Confidential will make their way to the Olympic Games.
I hope you will follow along.