It is Monday.
What are you doing to make a difference in your world?  To be an example of giving for your children?
I'm thinking the word 'Haiti' just might be on the tip of your tongue.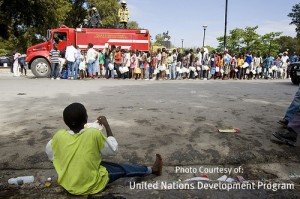 Millions have been donated.  Celebrities have larger than life checkbooks, but you and I?  We likely can't afford to write a check for $1 million dollars (though we'd do it if we could).
I wrote a post the other day with ways you can help.  Did I miss a something?  How have you made a difference?  Did you pledge to give up your coffee money?  Did you bring baby supplies to your local church?  Did you text 'Haiti' to the American Red Cross and donate $10? Did you offer a percentage of sales from your website or plan a local event?
I want to know.  I helped the best ways I could – donated to the Red Cross, to our church and I've been working to spread the word via posts and social media.  It is a cliche – but, I believe knowing how to help is powerful.
Since Make a Difference Monday is a new project for me, I am feeling my way.  I added the Linky last week, but it sat silently within the post….so, for now, we will Make a Difference via comments. Please share how you are making a difference this week – and it doesn't have to be Haiti related.
Please feel free to add links within the comments. If adding the Linky at a later date would inspire more participation, I'll be happy to bring it back.
Until then, thank you for joining Make a Difference Monday.