I will be the first to admit it….  I've been a bit 'off' lately.  For a million reasons – none of which you want to hear….  it is personal….  it is professional…. blah…blah… it is JUST LIFE.
But it is MY LIFE.  So, it is easy to get caught in the chaos of it all.  Easy to feel down and frustrated. And it is just as easy to lose sight of what is important.
In my world, 'important' stands just over three feet tall.  One a tow-head with blue eyes that mirror mine…. the other with soft brown curls,  freckles, and the sweetest dimples. They truly are my world…  but, sadly I know I don't absorb them the way I should every day.  Lately, my days have been punctuated by one too many, "I'll be there in a minute" moments. And they've managed to keep their darling little chins up each time they hear it.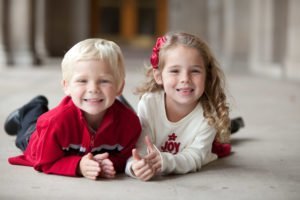 Today, the small dude came up behind me, tapped my leg…  aimed those blue eyes right at me and said, "I love you, Mommy….  can I give you a hug?"  And just like that, my perspective shifted.  The frustrations, the disappointments, the chaos….  it flowed from my shoulders, landing in a puddle at my feet.  I wrapped him in a bear hug and relished the feel of this little body as it molded to mine.  He wrapped his arms AND his legs around me, squeezing our secret one-two-three (I-love-you) with everything he had.  As he took his head off my shoulder, he locked eyes with me, and I'll be darned…  he giggled.  He looked wise.  As though he KNEW he had just kissed my proverbial boo-boo and made it better.
For that moment, we had switched places.  In only those seconds I realized that I had lost focus, but perspective returned.  And though I have yet to find someone to kiss away the things that are frustrating me, the re-focus on the small people has taken the front seat again.
And it feels good.
How do you keep perspective?