Relief used to mean a cool glass of water on a hot day, finishing a term paper, making it to work on time.
Now, I spell relief:   S-I-B-L-I-N-G     L-O-V-E
Just this week, my small people convinced me, I am, in fact, doing something right.
I may not always serve the right foods.  I may sometime raise my voice when I should be more calm.  I may allow candy before dinner, throwing balls in the house, and extend bedtime waaaaaay too late.
But you know what?  None of it matters – because my sweet small people LOVE each other.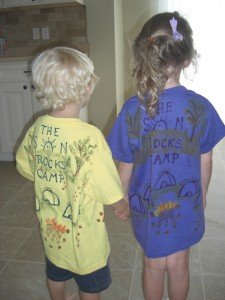 This was all I saw of them walking out of Vacation Bible School yesterday – they held hands, hugged repeatedly, whispered, "Damey, I missed you" and "Coopy, I missed you" over and over again. This was Coop's first time being in a 'school' format – the first time I had left him.
I'll admit it.  I cried.
And apparently, so did he (after I was gone), "Mommy, I cried because I told them I wanted to miss you."  And yet, he went back again today.
And the hand holding, the bear hugs, the kisses – it was all the same.
They actually missed each other.  Delaney proudly explained how she waved to Coop every time she saw him in the hall. And he, of course, waved back like a little blond maniac.
I don't think they have fought in two days.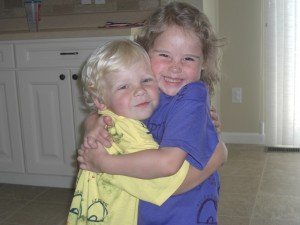 Yep – I'll take the credit for that.