The more I recognize the value in friendships…  I've always known it is important to have friends…to have someone to share with, lean on, celebrate with and love, but now I realize how 'young' it makes you feel to have that supportive presence in your life.
My recent addiction to Facebook has brought so many old friends back into my life (is it possible I really knew more than 50 people way back in high school??)….but it is one special friend I feel compelled to mention tonight…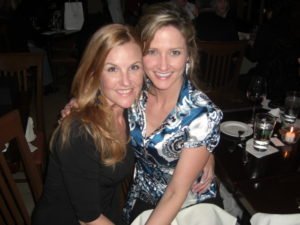 Today is my sweet friend's birthday.  While I typically consider birthdays a time for a 'personal New Year'..a chance to decide what you want this next year to be, for resolutions and such….in Mary's case….I consider it one more year to celebrate our friendship and appreciate what a special role she has in my life and that of my family.
Mary is the kind of friend we all need.
She rejoices in my joy and successes.
She laughs out loud frequently.
She makes me laugh.
She is beautiful inside and out.
She recognizes even the hint of sadness or anxiety in my voice and makes it her mission to take it away.
She is the perfect example of what mothering can (and should) be.
She loves her family unconditionally, and mine like they are her own.
She trusts, values loyalty, hugs like there is no tomorrow, is astonishingly intelligent and is always honest.
I'm a lucky girl to be celebrating one more year of Mary….
Happy Birthday, my friend!