The lip quivers.  The eyes get puffy.  My 7-year old son shuffles off the field from his shortstop position.
His head down, Cooper utters these six words, "Dad, I let the team down."
I meet him at the third base line.  No hugs or arm around him or any coddling.  Time for some tough love.  "Cooper, I and Team do not go together in the same sentence.  Not ever.  Win.  Lose.  Whatever happens.   We do it all together.  Now, in the next few minutes, you're going to learn a valuable lesson.  Grab a bat.  And hit the ball hard. You're up 2nd."
"The Rookies" trail the opposition 10-5 heading into the bottom of the 7th after an error-filled top half.   I huddle the team together and explain to them that we're going to win this game.  We scored 5 in the 6th.  We're going to do it again in the 7th.  We just need that one extra run.  They nod in disbelief.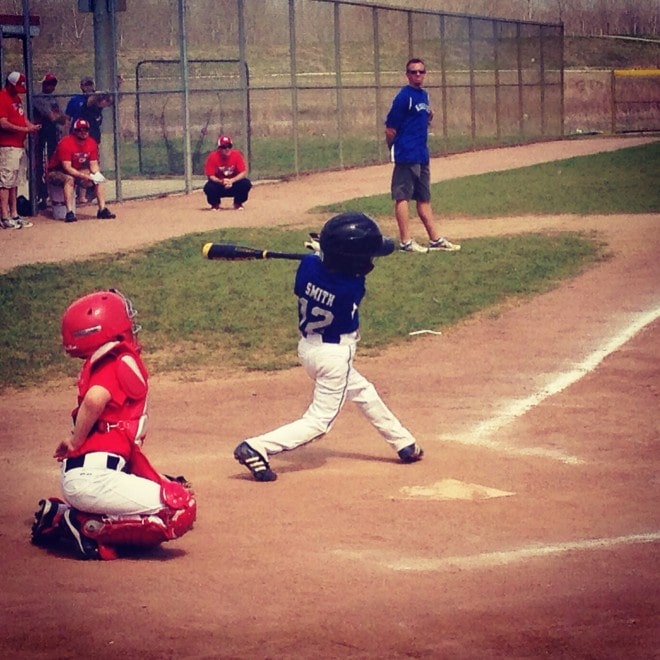 Reason #162 why I truly believe that group activities (Sports, Band, Choir, Debate Team, take your pick) is great for the young.  Kids learn at an early age to rely on each other.   They lift each other up when another is feeling down.  Unselfishness is a "nurture" quality.  It's not about the applause or the win.  It's about doing your best because your friends are right there with you.  Yep, they're 7 and 8 years old, but right here, on a diamond in AnyTown America on Easter Weekend is where lessons are learned through personal experience that last a very long time.  Hyperbolic.  Possibly.  True.  Definitely.
Ground Out.  Single.  Single.  Pop Out.  10-5 Still.  2 on.  2 out.  Down to the last batter.
Standing on 2nd base, my non- believing son looks over at me in the 3rd base coach's box with a dejected look on his face.  I glare at him and shout "2 out, you go on contact."
Pow!  3-run Jimmy Jack from his pal, Connor.  10-8. Still, though, one out away from defeat.
At least now, the kids are on their feet, clapping, cheering, smiling, there's a little life in their little lungs.   I heard one kid say to another, "Holy Crap, Coach Jeff was right. We could still win this."  Felt like Bennie the Jet Rodriguez was going to run right into our dugout followed closely behind by Squints, Smalls, Ya-Ya, Ham and the rest of the "Sandlot" 9.
Single.  They scream louder.  Single.  There's just something about momentum.  Single.  We've all been on the other side and it's not fun.  Single.  Being on this side is much more enjoyable.  Then, a walk off, 6 foot swinging bunt and 11 kids including one from my own gene pool complete a lesson in believing.  Time to bounce!!!  They definitely watch the MLB Network and how the Big Leaguers celebrate a "Walk-Off Victory."  11-10 Winners.
After The Rookies Baseball Club shakes hands with the other team, I huddle them together down the outfield line for our normal post game chat.  The message is this…
"No more tears on a baseball field.  No more head hanging.  We're here to play hard, have fun and root for each other.  When you tear up or head down, and act like you lost before the game is over, you're insulting your teammates.  It's as if you don't believe in them.  We all do this together.  Win.  Lose.  We'll do both this year.  But, what we will do every time… is … we will play to the very end.  What we will do every time… is … we will support each other to the very end.  In this game, there is no clock.  Nobody can tell you to stop playing.  They have to get you out.  And, if they don't, you just keep hitting.   And hitting.  And hitting.  Everybody learn a lesson? " Heads nod with belief.  I stare at the smiling blond-headed shortstop.  "Got it, Dad"
… and then you know what happened.  They did it again the very next day.  Blew an early 8-run lead only to come back in the Bottom of the 7th for a second consecutive Walk-Off Win.  Time to bounce! 12-11 Winners.
"Holy Crap, Coach Jeff was right."
Lesson Learned!