I can remember hearing my parents talk about 'where they were' when JFK and Martin Luther King Jr. were shot.
I can remember where I was when Challenger exploded (7th grade watching it live on tv), when OJ Simpson was acquitted (sneaking into the hallway at a temp job to listen to it on the radio), when the Northridge earthquake hit (sleeping in San Diego) and of course…the most formative of all tragedies for an entire generation…
September 11, 2001.
This day in our history, in my history, deserves its own remembrance.
I was in Nashville, Tennessee.  I awoke in a dingy motel, having driven overnight from St. Louis to interview with a TV News Director, in the hopes of continuing my then 6 year old reporting and anchoring career.  The Radio and Television New Director's Association (RTNDA for news folks) convention was being held at the Opry Land hotel.  The News Director (from Florida) had asked me to meet him there.
Jeff (our relationship a mere 6 months old) had come with me and had left the room to pick up a few newspapers for me to look over.  I was fixing my hair.  In the bathroom mirror, I could see the TV over my shoulder.  All at once, I could see what appeared to be smoke coming from one of the Twin Towers.  I remember very clearly thinking, "Is today the anniversary of the World Trade Center bombings?"
But, as I turned around and made my way to the tv, in what can only be described as a slow-motion-close-up, I saw witha chill the 'LIVE' icon in the corner of the screen.  Jeff came back to the room and in a rush of breath, I tried to recount what I was seeing.  We sat mesmerized, me with my wet hair slowly soaking through my interview suit. 
I dug my cell phone from my bag, confident my interview would be cancelled. 
In a flash, the second plane hit and the severity of what we were seeing numbed us to the core.
Soon after came the talk of missing planes…how many?  One?  Five?  More? Could this possibly be a terrorist attack?
I called my parents in California.  I was definitely the bearer of bad news.  I tried to reach my brother, a chef in the City.  It would be more than 12 hours before we knew he was ok. 
Jeff called his mom.  She begged us to get on the road home.  We promised we would as soon as we knew if the interview would still happen.
My phone rang.  The News Driector asked if I was listening to the news (he thought we were making the drive that morning)  I told him I was watching since we were already here.  I could hear his wife in the background crying out, "I can't get a hold of them." The couple's 2 sons live and work in New York City.
He said, "If you are here, we're going to meet."  I will always respect this man for honoring his minor commitment to me in the face of what was clearly a national tragedy, a personal stress and a professional tornado.
In the time it took us to drive to the Opry Land Hotel, the first Tower had fallen.  Like millions of others, I watched the second Tower go as it happened.
The memory still conjures up the chill I felt at that moment.  My throat gets tight and I feel compelled to take a deep breath.  As I do, I find myself grateful there is still air in the room. 
I watched News Directors and other TV professionals hijacking their rental cars and heading out of Tennessee, determined to be closer to home and to the TV ships they captained.  I was in the Presidential Suite of the Opry Land when the directors cancelled the convention.
I sat across from this man, attempting to focus on some 'normalcy' in interviewing, while the disaster in Midtown played out over my shoulder.  I knew it was just a formality, but I was grateful to him for focusing on me for even 15 minutes.
I met Jeff in the lobby of the hotel and we began our drive back to Missouri.  We listened to updates on the radio the entire time.  We spent much of the ride in stunned silence.  Though, I do remember a tremendous fight….one that required us to pull over and get out of the car, though neither of us knows what we were arguing about.
When we pulled into the city, a first for us….there were newspapers being sold on street corners.
"Extra!  Extra!"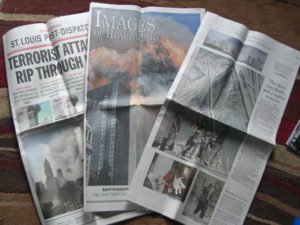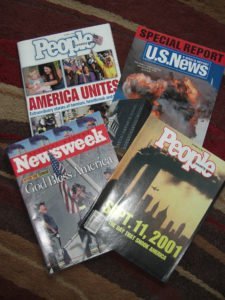 Over the course of the next days, I'm not sure I pulled my eyes away from the TV for more than a few hours to sleep at night.  I cried buckets of tears for those I didn't know…..for the children who would never again see mothers and fathers, for the parents who would never see children, for the husbands and wives who would go on without their mates.  I was mesmerized by every personal story, by every visual of people holding fast to faith that their loved ones would turn up.
I personally, did not know one person who died in the attack.
In a strange twist of fate, my brother had, only days before, turned down a job at The Top of the World….the restaurant at the top of one of the Towers.  He did so believing he was going to get a different job.  He didn't get the second job, and went back to the Top of the World to ask if the position had been filled.  It had, by a friend of his.  That friend only worked at night.  Except on September 11th, 2001.  He, along with many others, had been called in early to prepare for an event that day.  My brother never spoke to his friend again.  That friend was one of a few loses for Josh that day.
Less than two months after the tragedy, Jeff and I visited the city.  Ground zero was still burning.  The memorials covered with the missing were still there.  Many shops had sectioned off portions of their stores so people will never forget what happened that day.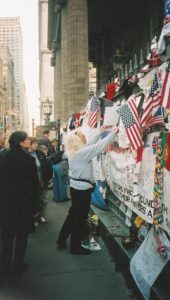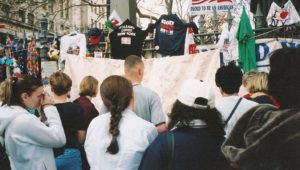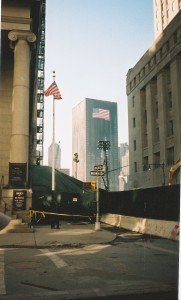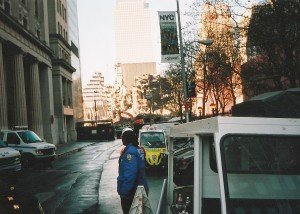 It felt like visiting a tomb.  Everyone moved in silence…recognizing the many souls likely looking over the very spot where we walked….
To this day, I feel a catch in my throat when I see the New York City skyline… The missing towers represent, in my mind, a loss of life, a loss of loss of loved ones and a loss of innocence.
Like millions of others, I will never forget where I was on September 11, 2001.