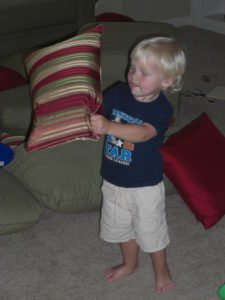 Coop's new habit?  Sharing his inevitable misdeeds. With a question.
"Hoo did dis?" (Who did this?)
Who wrote in pen on our new couch pillows? (that's what he's showing me in the picture)
Who colored on the wall in blue crayon?
Who colored on Delaney's dresser in red crayon?
Who emptied the toothpaste tube on the bedspread?
Who covered his bedroom window in Vaseline? (yes, that one was especially fun)
I always say, "You tell me."
And he always says, "I di it."
At least he's honest.  And who can resist that face?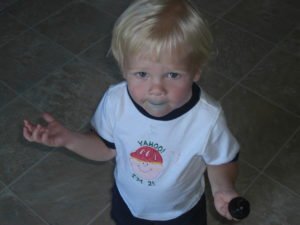 PS: Go visit the Blog Train!