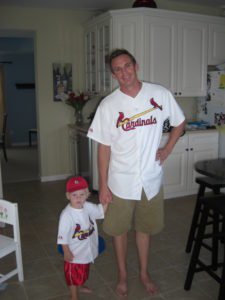 This picture ALMOST makes me cry.  Coop looks like such a little man!  He so desperately wants to be just like his daddy.  Tonight, Jeff took Coop to his 2nd Daddy/Son Cardinals game.  Neither of them could stop grinning.
"Daddy, go bay-baw-game"  Coop must have said it 25 thousand times before they left.  Both suited up in their Pujols jerseys.  Coop, glove in hand…Daddy, hand in hand with his little man.
And when they got home…Coop was asleep in the car…with his glove still on his hand.  Apparently he was a Daddy's dream at the game.  He watched, he cheered and he can't wait to go again.