I think it would be fair to say my family is a little bit obsessed with baseball – specifically, the St. Louis Cardinals.  My husband had to recite the inscription on Stan Musial's statue before he was allowed into the stadium when he was THREE.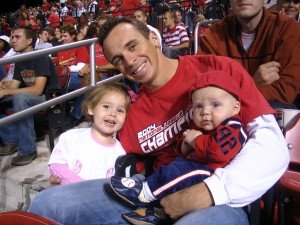 I think you could say that obsession is being passed down.  You've seen my husband's Daddy Diaries, right?
The kids have been going to games since they were itty bitty.  (This picture is from 2 years ago) And tonight we are going, as a family, for the first time this season.
The kids are beyond excited.  I'm having to convince Coop he REALLY doesn't want to wear Daddy's catcher's helmet to the game.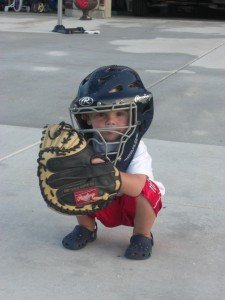 This is him wearing it last year.  He puts it on multiple times throughout the day. He also greets his Daddy every day wearing a glove and carrying a ball and bat – his question, "Daddy – pay basbol?" He asks first thing in the morning and the second he comes home from work.
I think Daddy succeeded in passing on his love of the game. Fortunately he is growing into the gear a little bit and has mastered running the bases and hitting the ball.  Good thing – since he plays daily!
Maybe we can catch a foul ball tonight….fingers crossed!