When was the last time your family stopped to celebrate? Was it a birthday?  A big-game win? Or do you breathe in the everyday moments… basking in the beauty of all the little 'firsts', the triumphs both you and your small people experience?
Do you smile at the close parking spots, the unexpected deal at the checkout, the surprise extended deadline?
Do you stop when your children walk in the door from school, or is your nose pointed at your computer?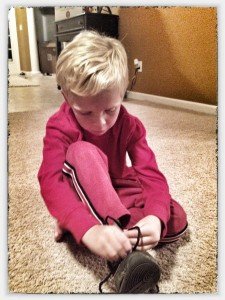 I'm here to suggest you stop and find joy in the small. Embrace those first few seconds when they burst through the door ready to share their successes and frustrations, their stories and what they learned.
Today, I was regaled with stories about shark attacks, Susan B. Anthony, polar bears, the periodic table, that girls weren't allowed to go to school in Ancient Greece, and the birth state of President Barack Obama.  I was asked about the size of the sun, the penalties faced by the kicking team when a field goal is at stake, what would happen if chocolate was a vegetable and whether or not we could ever trade Daddy for a baby sister. (Delaney was joking on that last one.  I think 🙂 )
But you know what elicited the biggest cheers?
Shoe tying.
It is something I have been doing for more than 30 years.  But the small dude finally figured it out tonight – after weeks and weeks of putting it off, after multiple attempts and near-tears moments, tonight was the night.
We laughed.  We high-fived.  He danced.
We celebrated.
(For the record – go with making two bunny ears – that was the trick that tipped Coop's shoe-tying success)
Take the time.  It is worth it. I promise.
What was the last thing that made your family belly-laugh, jump for joy or tackle each other with joy?