Sometimes I don't know how.  I truly don't.  And when it is all done, I cry myself to sleep or curl up in a ball of overwhelmed exhaustion, but for our small people, we somehow just do, right?
I was in Nashville on Tuesday working on a project with Child Hunger Ends Here… a campaign that matters greatly to me, when I received a last minute call asking me to host an event in Los Angeles on Thursday night.  A few things to note: I was extremely grateful to be offered the opportunity and I truly wanted to take the job.  As you likely know LA is my true 'home', so any chance to be there is a treasure, plus the event was a 'Ladies Night Out' for a brand new wine – Butterfly Kiss and the beneficiary of the event was Locks of Love.  Everything about it sounded beautiful and perfect for me.
Except I had told Delaney I wasn't going to be traveling any more before the end of the year.  And even though I haven't been traveling as much lately, she was still missing me on this one, quick overnight trip to Nashville.  Saying yes to Butterfly Kiss would mean coming home from Nashville and turning right around to head to LA.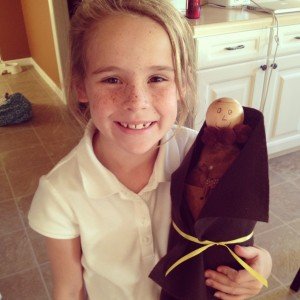 I decided to do it.  But arranged my flight so I would be home for the afternoon to see my small people before taking an evening flight to LA.  My sweet girl, because she was going to miss me, decided that we needed to do a school project together that isn't do until next week.  IT NEEDED TO HAPPEN NOW.
So my Wednesday included a morning flight home from Nashville, a mad-dash to Michael's for all of the craft necessities, unpacking, re-packing, 4 videos I needed to do, this fabulous rendition of St. Francis of Assisi crafted from a soda bottle, making dinner and 4 hours of writing on a flight to Los Angeles.
I still have a headache. But would you look at her smile?
From the moment we finished, she couldn't stop telling me how much she loved him.  He was done six days early, but St. Francis made this little girl's day.
And that made mine.  When I curled up into a ball on Wednesday night in my hotel room, and even now as I fly home – still exhausted, I know I would do anything to make her that happy again.