So, the other day, my daughter, Delaney got herself into trouble.
She's has been extraordinarily sassy lately, and quite honestly, my husband and I have had it.  We were exhausted by the disobedience, the second chances, the talking back.  So, as many parents before us have done, we sent her to her room.
She went.
But not peacefully.
From her room upstairs, I could hear the screaming, the wailing, the begging, the moaning.
Life is hard when you are five. Especially when you don't get what you want.
What we didn't initially consider is that Delaney's window was open.  And she faces out to our cul-de-sac.  And everyone could hear her: " I. Just. Neeeeeed.One.More.Chance.  Puhhhhleeeeezeeee.  I'm. Begging.You."
The neighbors closest to us – who we adore – are long past this stage – their son is in high school.  So, they were entertained by the drama and decided to have a little fun.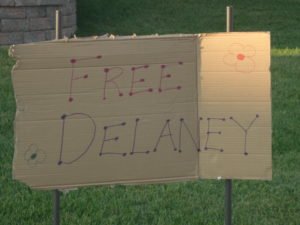 I still can't stop laughing.