0-0  score.  Halftime.  Tournament Quarterfinals.  And, my daughter gets the call to be the Goalie to begin the 2nd Half.
And so it begins, my new career as a Daddy to an athlete.  I've played in thousands of sporting events in my life.  Never did my palms sweat, eyes twitch, knees rattle as much as they did while my 5-year old was in net for her Kindergarten School soccer team.
You have to understand.  Delaney is the youngest girl on the team.  She's the smallest girl on the team.  She's not the most aggressive girl on the team.  The team she joined played together last season.  They have a great head coach, a terrific supporting cast of assistant coaches, dynamite parents as fans, a fantastic group of players, thus are really, really good.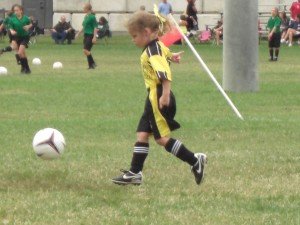 I wanted Delaney to be a part of her school soccer team, so that she could meet new friends, get some exercise and learn about the sport that I played for over a decade of my own childhood.  And, it just turns out, that she joined the 2026 Gold Medal Award Winning Team USA.  Remember the name Abby Houlihan.  This girl is the next Mia Hamm.  She "strikes" the ball.  She doesn't just kick it.  She freakin' rips the thing.  But, I digress.
Whistle Blows.  2nd Half is underway, and here comes a breakaway.  Delaney is bobbing up and down in the net in anticipation of the ball coming her way (or she might have to go potty).  Either way, she makes the save, runs to the top of the box, and throws it a good 5-7 yards.  She might not be the next Hope Solo, but she could be the next Jennie Finch (my daughter can play some softball; that's in her genes). 
Before I could congratulate her, the other team is coming at her again.  She's looking at me for positive reinforcement.  "Delaney, nice save, watch the ball, here they come again!!!!!"  Someone put berry juice in her cleats.  (Sidebar:  Berry Juice is what Care Bears drink to make them bounce high).  The ball comes skyward, and I'll be darn she catches the thing.  Just like in the backyard when I'm hitting pop-ups to her. 
I keep checking my watch.  Halves are 25 minutes in kindergarten soccer.  It's been exactly 3 minutes.  22 more to go.  There's no chance my heart can take 22 more minutes of this.  Luckily, the 2026 Team USA (currently known as Delaney's teammates) start to control the tempo a bit, keeping the ball near the opponent's goal.  About half way through the 2nd half, the head coach yells "SUB!" and out she goes.  See, in Kindergarten, most coaches will substitute all positions, Goalie included.  Final Tally.  6 shots on goal, 6 saves for the Bouncing Care Bear known as my daughter.  Deep Sigh from this author.
The game actually goes to Shoot Outs!!!  Again, this is Kindergarten!!! But hey, it's a tournament, and there needs to be a winner.  I cannot imagine what Libby's Dad was going through.  Libby played Goalie for the Shootout.  But, she IS the next Hope Solo, so stops all shots her way, and Team USA wins the game, and, of course, continues on to win the entire Tournament. 
Delaney runs over to me, and leaps into my arms.  "Daddy, can we get ice cream?"  Now, that's my 5 year old.  "Heck yah, kiddo, you did great!!!"  "Daddy, we won.  Can I play again?"  "You bet honey, I just need to go see a cardiologist tomorrow, and then I'll be ready to go."  "Daddy, what's a Cardinal-ologist?"  "It's a person that tells me how lucky I am to be a daddy."  "Daddy, I love you!"  "Me too squirt, I love you too."
Game over for today.  I win.