They opened my door slowly.  A sure sign I was about to get some news I didn't want to hear.  My Dad was angry, I could see it in the way his lips were pursed.  Mum was nervous, sad.  Not a good combination.
This was the Spring of 1991.  I was a Senior in High School. It had been an extremely tough year already.  Mum bounced back from what doctors had told us would be (not could be, mind you)  a fatal condition (we still aren't sure how).  But she was still fragile.  Whatever was eating at her now couldn't be good.  I could feel my stomach tighten, my heart galloping to catch up with the tidal change of emotions in the room.
They told me to sit down.  Again with the bad signs.
It seems there had been a bit of a mix-up with my college applications.  I applied to ten schools.  I was accepted to nine of the ten.  That tenth, and my dream school, Stanford, was a long shot.  I knew it when I applied.  So, the rejection, though it stung, was expected.
But this news? Was not.
My 'second' choice, and by default (since we all knew Stanford wasn't going to come calling) my first choice, was Santa Clara….a small Liberal Arts School in Northern California.  I was accepted via early admission.  So, in the Fall of 1990, I knew…. unless Stanford suddenly had a spot open for a girl like me, I was Santa Clara bound.
Until this moment.
You see, I needed financial aid to attend college.  My parents sacrificed more than I can fathom to put my brother and I through private school through our senior years.  But the money needed for college simply wasn't growing on the trees in our backyard.  This is where financial aid came in.
You remember I said I was accepted to nine schools?  By this time, eight of them had given us wonderful financial aid packages.  But not Santa Clara.  When my dad called to inquire, the call went something like this:
"Hi there, I'm calling to inquire about financial aid information for my daughter, Danielle Elliott…."
(Plug your nose and do your best imitation of a bored phone operator when reading this portion aloud)
"Well, you see, Mr. Elliott…. the problem is that your daughter hasn't been admitted to the University yet…."
"Pardon me, but she most certainly has.  I'm staring at her acceptance letter right now… she was admitted during early acceptance in the Fall?"
SILENCE……….
"Ummm…. Mr. Elliott, let me call you back….."
Unfortunately, the call back didn't include good news.  There had been an error, a mistake, if you will.  My name, along with a half dozen other undergraduate names, as well as a few dozen Law School acceptances were never transferred to the Financial Aid office after we were admitted.
And now?  It was too late.  The financial aid was gone. Given out. Spent. Shared.  Gifted.  Call it what you wish, but it was now impossible for me to go to Santa Clara.
I cried.  I sobbed the heart-broken tears of an 18 year old who has planned her life with THIS college as her first step, only to be blocked at the first turn.  And I had absolutely no idea where to go now.  Those other eight schools were just backups.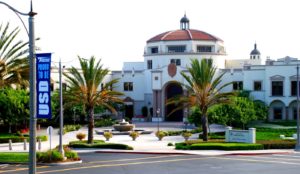 Until my College Counselor said, 'Go South.  Visit the University of San Diego."  Mind you, I initially said, 'no'.  Probably in an extremely vehement fashion.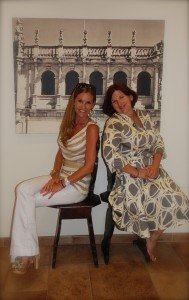 But I visited.  And I loved.  The white buildings.  The blue sky.  The green grass.  The ocean in the distance. It is no wonder USD was just ranked, today, as one of the ten most beautiful Campuses on Huffington Post.
This was home.  This third choice college turned out to be one of the best decisions I ever made.  What I learned in these classrooms, the friendships I made on these lawns, the love I have for San Diego, I carry it with me today.
One week ago, I returned to USD, fulfulling a life-list moment…. I spoke on this campus. And it is to Lindsay Maines that I owe a debt of gratitude for giving me that moment….for inviting me to speak during her Women Create Media event.  I spoke about Writing for Love and Money with my amazing co-author, Aliza Sherman. (Our book, Mom, Incorporated is DONE and available for pre-order on Amazon now.((I'm giddy))  It will be in bookstores in October)
I imagine it will be no surprise when I tell you I teared up as I thanked Lindsay for this moment.