It almost felt like I could reach out and touch them… as if maybe, just maybe, they were singing right to me.  And I suppose they were, the few dozen country stars who took the stage at the 46th Annual Country Music Awards this past week, if you consider they were also singing to everyone else in Bridgestone Arena in Nashville.  And, of course, to everyone sitting on their couches at home.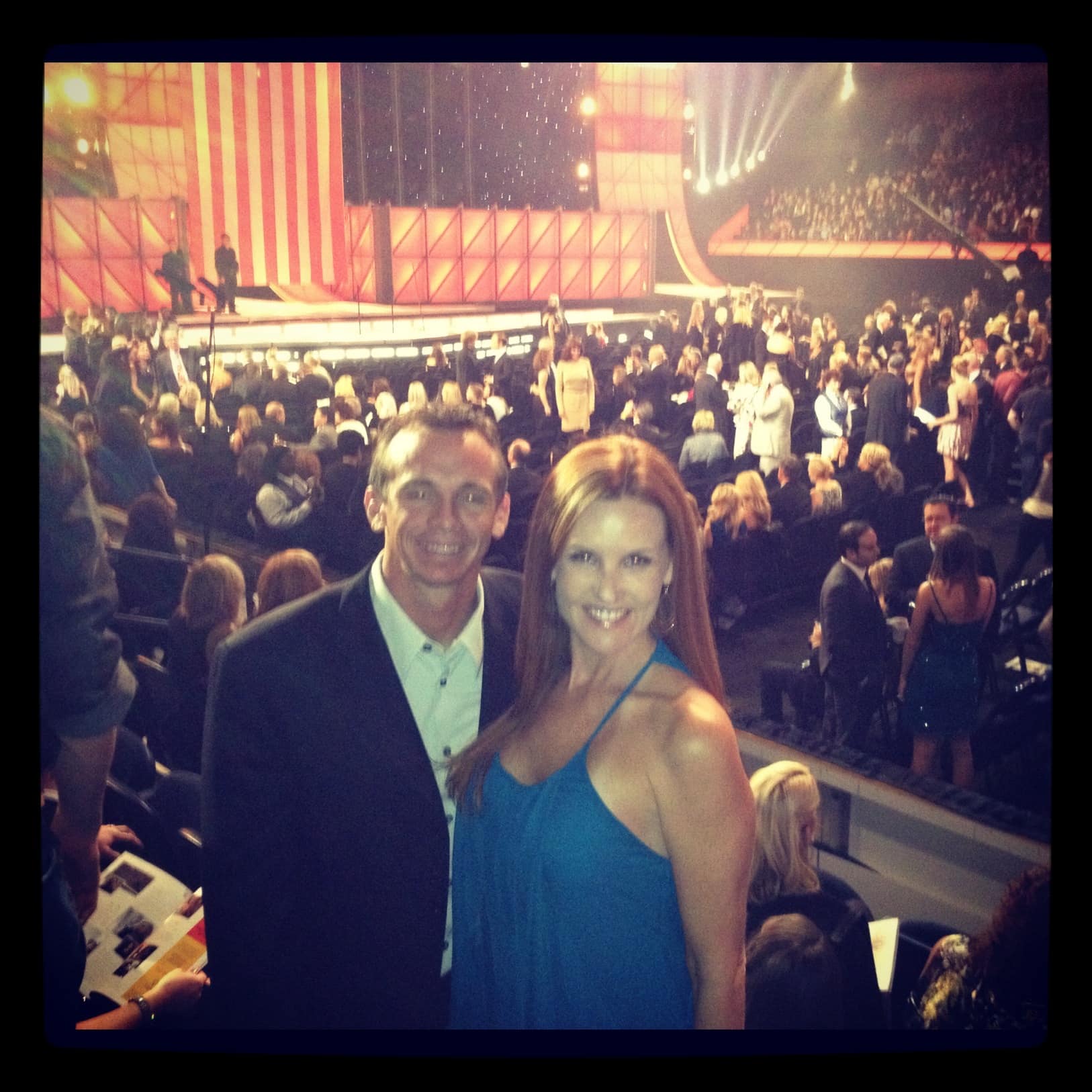 But it certainly felt as though it was unfolding in a special bubble right for me.  I've loved country music for more than 20 years.  I fell in love with it when Clay Walker was making his debut when I was still in high school.  This was before Friends in Low Places bridged the country-mainstream gap, mind you.  After college, I learned to line-dance and have now lost count of the number of country concerts I've attended.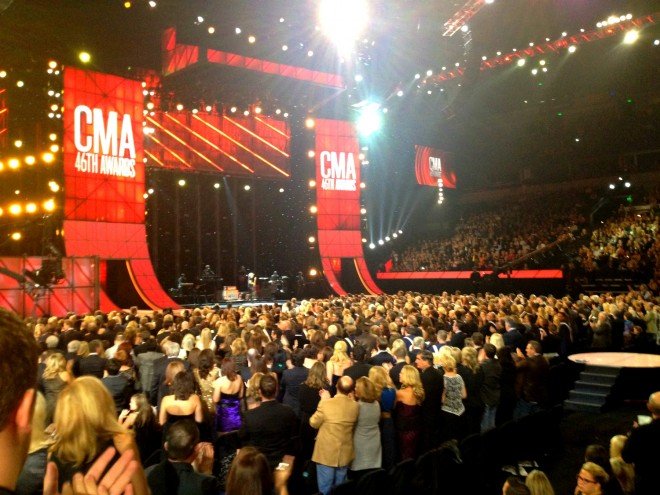 That night at the CMA's, my husband joined me and we chatted about the number of performers we have seen in concert before – Miranda Lambert, Blake Shelton, the Zac Brown Band, Little Big Town, Jason Aldean, Luke Bryan, Brad Paisley, Taylor Swift, Carrie Underwood, Martina McBride, Sugarland, and more.  But there is simply something extraordinary about being present when they are being recognized for the work they love.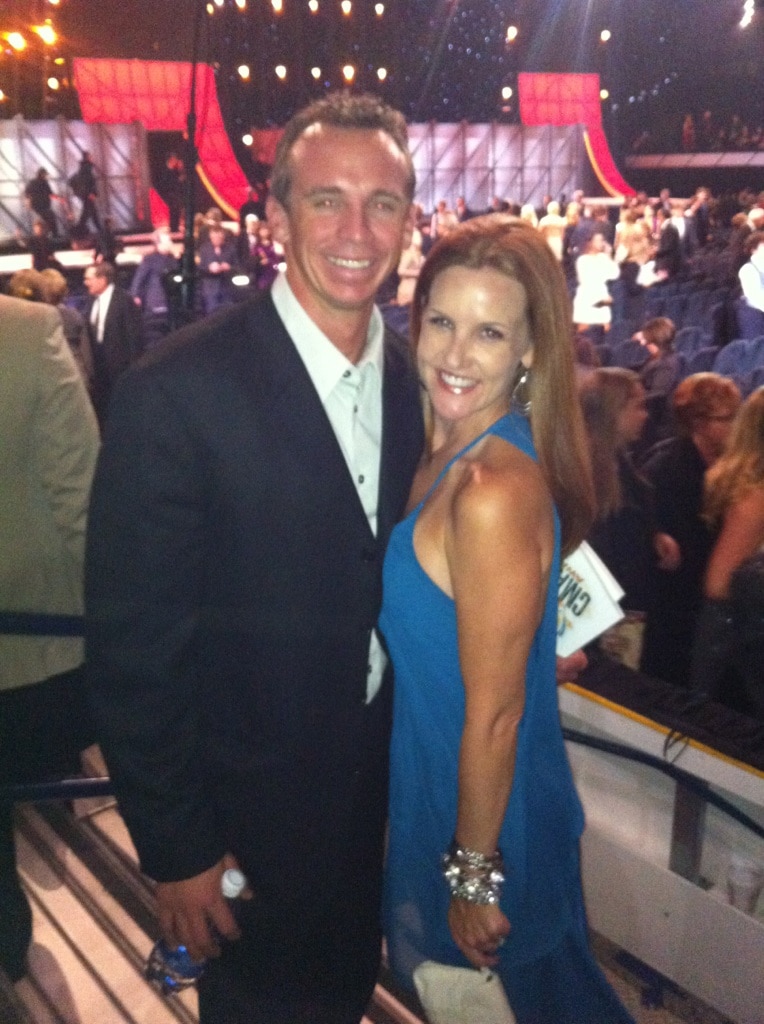 We started with dinner at The Palm.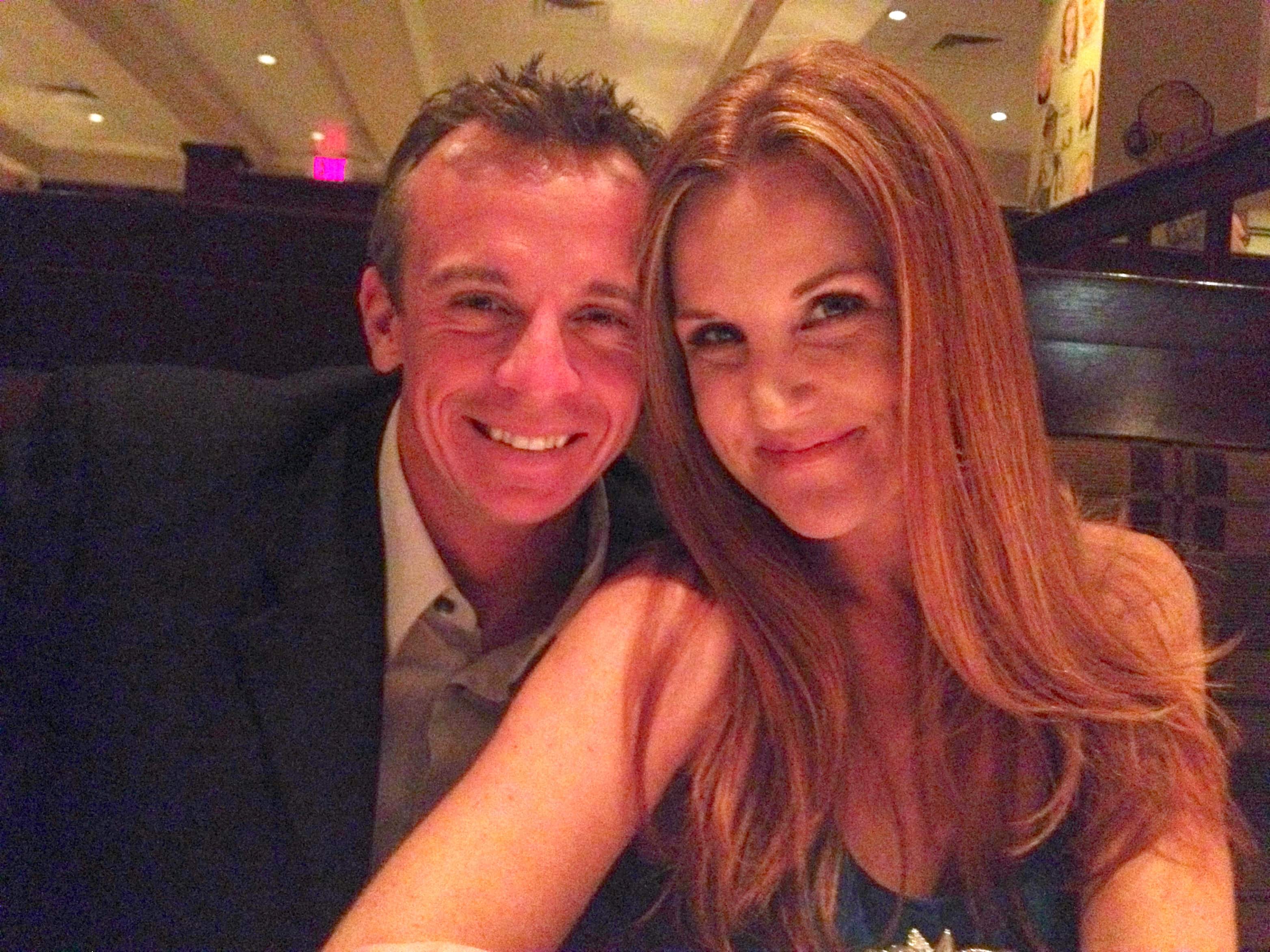 We were accompanied by the most amazing group of women from Got Milk (since I was in Nashville to interview Miranda Lambert about her amazing new Got Milk, Milk Mustache campaign – have you seen the interview? – she is so delightful!) and Weber Shandwick.  I'm beyond grateful to them for this experience.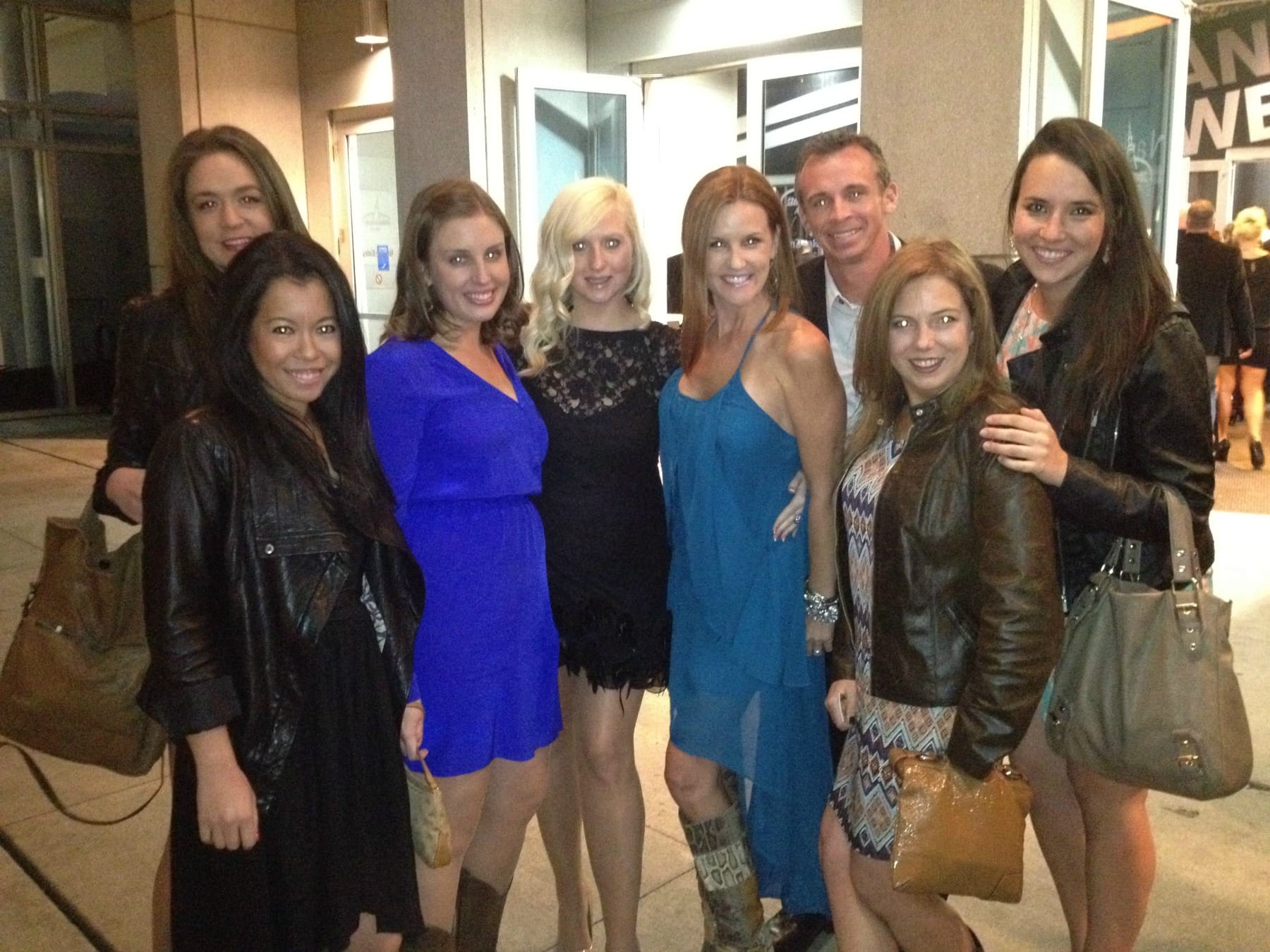 Our seats were divine. Yes, THAT is the stage.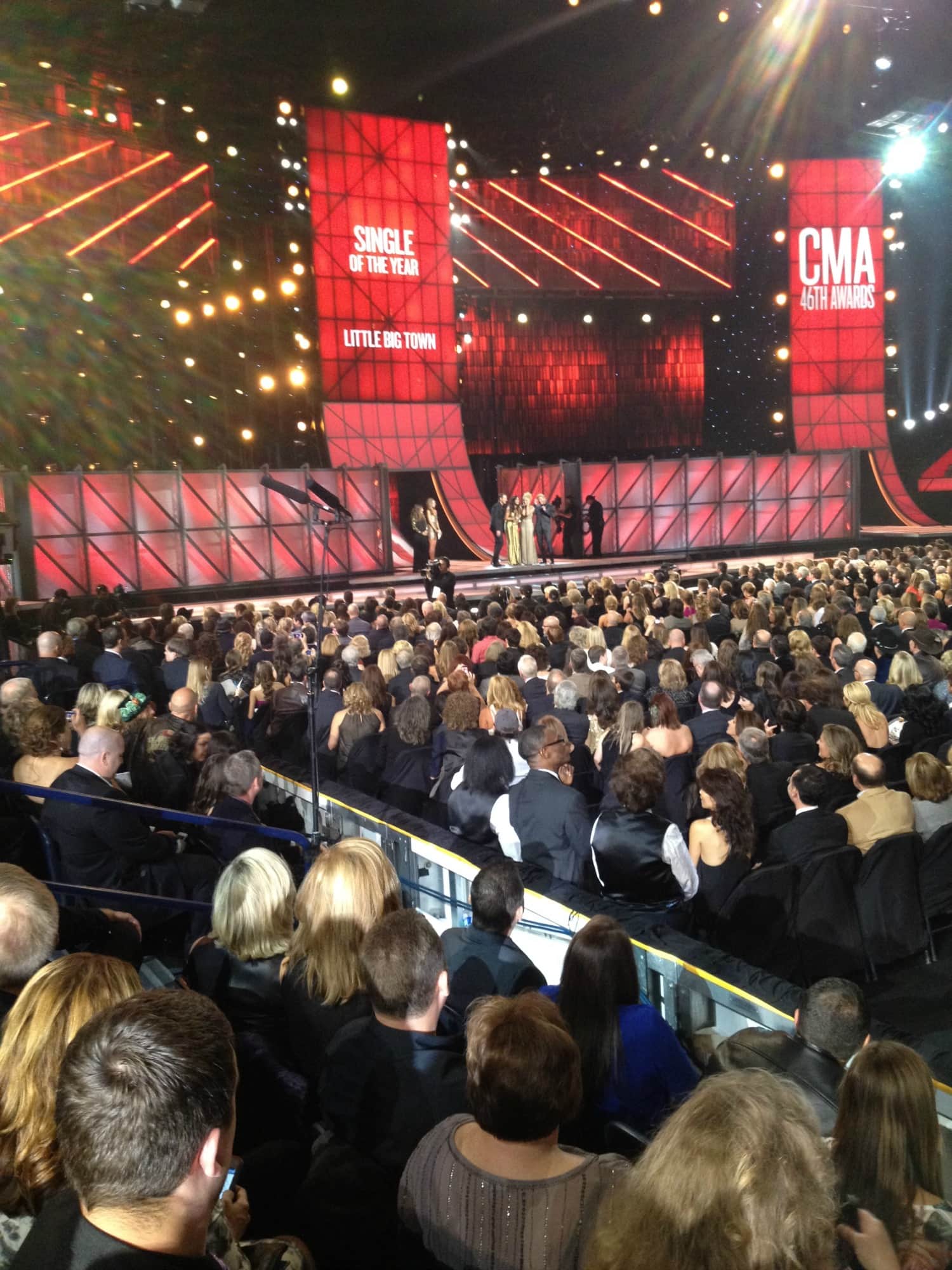 I wore a dress with boots – who gets to do that? I stopped a strange lady in the hall of my hotel for fashion approval.  I love her for encouraging me to do it. Never again, I imagine, will I pair this dress with my very favorite pair of Coach boots.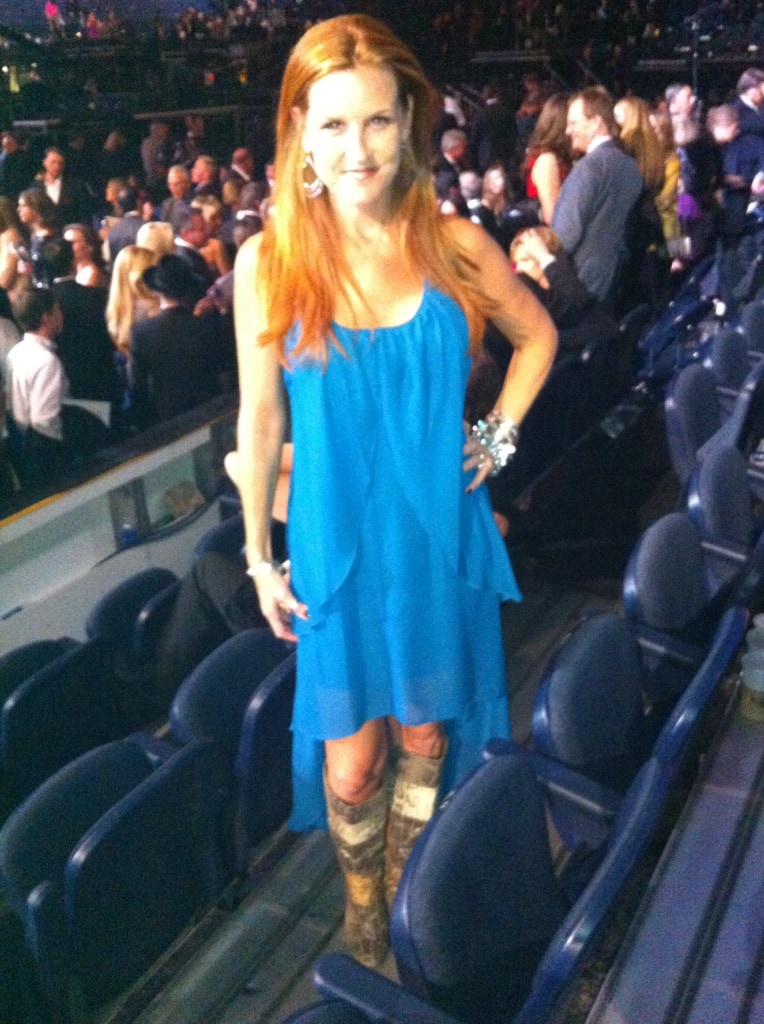 We were right there as Jason Aldean, Luke Bryan and Eric Church opened the show, laughed as Brad Paisley and Carrie Underwood did Gangnam Style, smiled the biggest smile when Hunter Hayes played Wanted almost right in front of us (interviewing Hunter this past Spring is a highlight for me), cheered when Little Big Town won Vocal Group of the Year and when they performed Pontoon (have I told you I'm meeting them next week?  Details to come!), jumped to my feet when the Zac Brown Band played In Her Eyes (I have a soft spot for band member Coy Bowles after his kindness to my sweet girl), cried (and yee-hawed!) when Miranda Lambert and Blake Shelton won Song of the Year and then Female Vocalist of the Year and Entertainer of the Year respectively.
And after it was all over?  Country dancing.  Bless my country heart.
It was a perfect night.  Perfect.  A life-list item for me – checked.
My final question for you…. while I was in Nashville, I was mistaken for Connie Britt…. the… how do I say it, slightly older than I am… star of the hit show Nashville…. at least FIVE times.  And the 'older' adjective is how people described her to me when I didn't know who she was.  Good times. We had to convince the woman next to us at the show that I wasn't her.  This is her on the left in the red dress presenting Female Vocalist of the Year….  thoughts?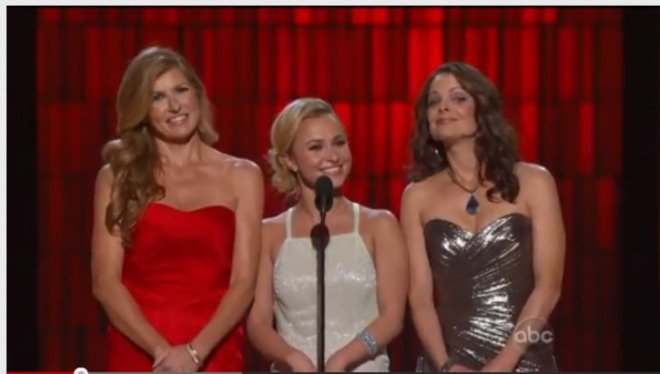 As I mentioned, I was in Nashville to work on behalf of Got Milk, Milk Mustache and The Breakfast Project, interviewing Miranda Lambert about her involvement in the campaign and her brand new ad.  The opportunity to also attend the CMA's was truly a treasure for country fans like my husband and myself.  We are exceptionally grateful.  I do have a working relationship with Got Milk and as always, all opinions share on my site are mine alone.