I've been reading A LOT lately about time working/blogging/business-ing vs spending time with the family.  Some mom bloggers are quitting.  Some are arguing with their husbands.  Some just feel plain 'ol guilty. This is a sensitive subject for me since I know I have not yet mastered the balance.  I am, however, starting to wonder if I ever will have it down perfectly.  I have felt stretched so thin lately. So I need a new plan.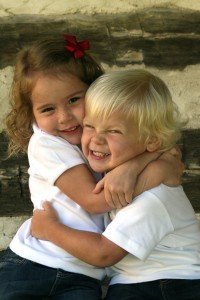 I did learn something today.  Well, maybe it isn't a 'learn' so much as a 'remember'.  I LOVE spending time with my kids.  I love hearing them laugh, watching them shoot baskets and reading stories with them.  I adore seeing the mischievous looks in their eyes and I can never, EVER get enough hugs and 'kishes'. I mean, how could I resist these sweet little faces?
Since Coop and Mini are still little and only Mini is any school at all (this means Coop is my permanent side kick) I don't have much time all to myself.  I have found my very best time to work is at night – fewer interuptions.  I do write, etc during nap time, but I never know how long naps will last – and working with finite restrictions doesn't always produce the best results for me.
At times I wonder if it is possible to drown underneath the paper that makes up my to-do list.  I'm even starting to have 'to do lists' for my 'to-do lists'.  Scary, I know.
But I must maintain focus: I do what I do (blog and author ExtraordinaryMommy.com) BECAUSE I have a family and BECAUSE I adore them – not to escape them.
That being said, I am open to balance and organization suggestions.  In fact, I'm thinking I just might NEED a little guidance.  So, please, comment, comment, comment.  Tell me how you balance it all and keep your sanity.  How do you spend time with your family AND make sure all of your emails are answered, posts are written, calls are completed and get some sleep. (Please tell me you do sleep, right?)