It is bedtime.  We have said prayers and are doing our final wishes of sweet dreams.
She doesn't even blink.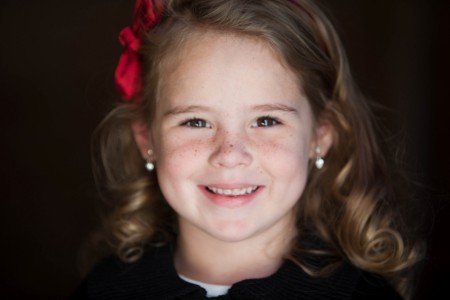 Her Hershey Kiss colored eyes stare right into mine until they start to fill with tears.  She puts her little heart into my hands and whispers:
"I don't want you to go.  When you are gone, I miss you.  And I love you."
Her Oscar worthy performance complete with a single drop of water spilling from her left eye, right on cue.
My heart gets tight.  I struggle with the words that just *might* make her feel better.  I've been traveling a bit lately. I know in my soul that she is well-taken care of when I'm gone.  She is loved and surrounded by goodness in the form of a perfect daddy, doting grandparents and little friends who keep her running, jumping and playing – as any almost-six year old should.
And yet, the guilt is piercing.  It weighs on me.  I hoist it on my shoulder like an extra carry on – unable to place it firmly under the seat in front of me.
This 'being a mom' thing is damn hard.
I ask if I can snuggle with her for a while.  I wrap myself around her, making a twin out of her double bed. She leans into me and sighs.  I take small comfort knowing I have this time with her.  We chat softly about the days I will be gone: Thursday and Friday are packed with Vacation Bible School, time at the pool and a slumber party.  Saturday – her brother's t-ball game, more pool time and fun with MaMa and PaPa sprinkled throughout.
And then: Poof…..just like magic, I'm home on Sunday morning.
I remind her the last time I was gone she was having too much fun to come to the phone for a chat.  That meant it was me holding back the waterworks.
We lock eyes again.  I kiss her nose, her eyes, her cheeks.  I thank God she is mine and that I am blessed to have my days with her.  I know we will have these same moments when I travel again.  I will try to focus on the beauty of being loved enough to be missed.
My sweet, sweet baby girl.  Growing up so fast….no longer really a 'baby', but still mine nonetheless.
Does this happen to you?  How do you handle your little ones delicately?
Since this challenge is new for me – my small people have never before balked at my leaving….  I would LOOOOOVE any suggestions you might have.