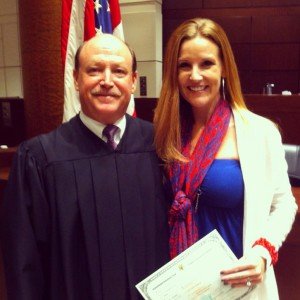 I have been looking forward to today like I did to other monster milestones in my life….. Not quite the birth of my children or my wedding day, but easily on par with any graduation.
Today I walked into a courtroom in downtown St. Louis. I joined fifty other people from twenty-five different countries, and we, together, became citizens of the United States. I will admit to you, my friends, I cried. I actually cried. After America the Beautiful. After I stood, raised my right hand and swore an Oath to the United States, a country that has nurtured me for most of my life…. I took my seat, and wiped my eyes.
Do you ever stop to think about the beauty of the United States? We're in the midst of an election year… a heated election. So, we're inundated with opinions, with frustration, with a desire to move right and left, but do you ever remind yourself how extraordinary it is that we can vote, that we have a say in our government, that we have a Constitution and a Bill of Rights? I'm not blind…. the United States isn't perfect. But I spent the morning with men and women who have come from Yemen, Jordan, Pakistan, Iran, Iraq, China, Bosnia-Herzegovina, and Vietnam among others…. and we were all equally in awe of our experience.
I walked from the courtroom, a newly minted American and the very first thing I did was register to vote. I literally SQUEAKED under the voting deadline. This was the last Oath Ceremony I could have participated in and still been eligible to vote. If my ceremony was NEXT Friday, I would be too late.
Maybe THAT is one of the reasons I am so emotional. This video shares how I feel about the experience and expresses my thanks for the many, MANY people who have shared my joy online, via calls and texts. (Try to ignore my sniffles and tears) I couldn't be more grateful.
Do tell me – have you ever taken a deep breath and thought about what it means to be an American?
Again? Thank you.
My husband too, shares his thoughts and perspective.