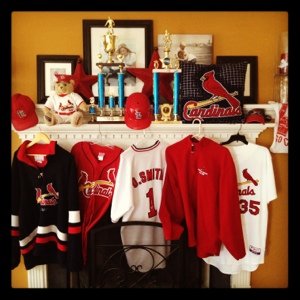 St. Louis Cardinal Baseball is much like religion in my husband's family. Before he was allowed to enter Busch Stadium when he was three years old, he was told he needed to recite the inscription on Stan Musial's statue.
He did it.
My small people have done it too.
You are looking at the mantle…or shrine… in our family room.
This time last year, the Cardinals were making a run for the World Series. And then they were IN the World Series. My husband bought tickets to Game 6 (if you are a baseball fan, the now infamous GAME SIX – arguably the most-amazing-playoff-game-in-history) from Craigslist. He took our sweet girl downtown, perched on his shoulders, covered in Cardinal's gear, only to be turned away at the gate. It turns out he was one of hundreds who had purchased counterfeit tickets.
To say he was crushed was an understatement. My two people sat side-by-side on the curb downtown, both of them holding in the tears, defeated, unable to join the crowds on the inside. My husband, unable to take his little girl to see and share the game he loves.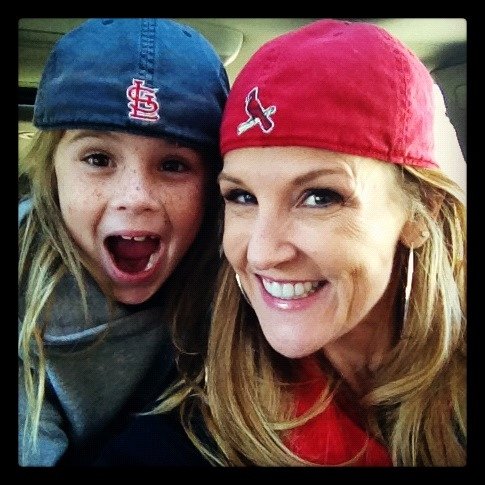 Fast forward to this past weekend. The Cardinals are back in the race again. Game 1 of the NLDS was Sunday – the Cardinals facing off against the Nationals. We had tickets. And they weren't counterfeit. But the small dude had a soccer game at the same time, and my husband is the coach. He is torn between his commitment to the small dude's team and his desire to recreate last year's moment with Delaney.
I almost convince him to have the assistant coach take the reigns with Cooper's team so he can head downtown with his girl. I'm so afraid he will never have that opportunity with her again – he of course scoffs at me… these are the Cardinals, Danielle – of course they will be in the playoffs again!
But the small girl helps him to make the decision: she asks him if she can go with ME.
Me… the one who can't catch a baseball. Me… who owns the Cardinal jersey, but can't recite every Red Bird Playoff and World Series year like a real fan. Me… who didn't make the counterfeit trek downtown last year.
I hardly feel worthy.
But, like the amazing Daddy he is…. he is listening to his little girl. She is telling him – not that she doesn't want to spend time with him, but that she needs some extra one-on-one time with me. He coaches both of her teams. He's been in the basement helping her to perfect her pitch. I was out of town last weekend.
And he heard her loud and clear. He handed me the tickets, smiled and said, 'bring home a winner'.
We didn't and we did. The Cards lost Game 1 against the Nationals, but I won. I have a husband who sacrificed his love of the game for his love of his little girl. And I spent a full afternoon talking and laughing with my girl.
Oh….and for Game 2 – Dad took the small dude, and THEY brought home a real winner.