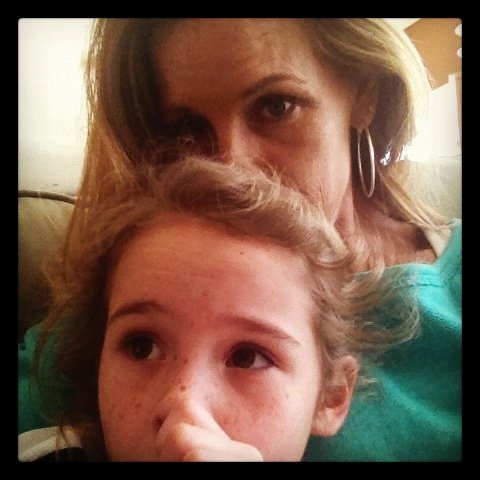 What do you see in this picture? I see a plethora of stories, of emotions…. but then again… I know exactly what was happening at this very moment.   I see a freckled little girl, clearly in need of snuggling and a mommy willing to tackle that need.  Mommy is focused…  Little one is trying to keep her mind off whatever is bothering her right now.
You know what else I see?  That little one has her thumb in her mouth.  And what you, the viewer, don't know: thumb sucking is this sweet girl's one major vice. And yet it only happens when she is a) truly exhausted or b) when she really, really needs to comfort herself – as she does right now.
In this picture, we are waiting for a visit to the doctor.  Delaney first jammed her thumb playing basketball on Thursday evening and then re injured the same hand playing soccer on Saturday morning.  The good news: It wasn't broken, but it was tender enough that the doctor requested an X-ray.
At the moment this picture was taken, Delaney was hurting and in need of 'comfort'.  The thumb she injured was… no joke…. her 'favorite thumb'…. so the thumb she is sucking in this picture?  Her other thumb.
I'm not a fan of the thumb sucking.  We've worked to get her to stop.  And quite honestly, she doesn't do it that often anymore.  But in this moment, I made a choice.
I believe in picking my battles.
I may want the 'thumb sucking habit' to break.  But in this moment, I chose her comfort.
As a mom – I could literally spend ALL DAY fighting about what my small people choose to wear, how they style their hair, clean rooms and who fed the dog last…. but I choose my battles instead.
I make manners and school work, respecting adults and being kind the priorities they must live.
What do you choose?