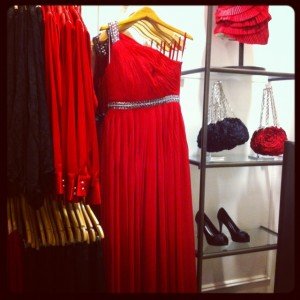 I can't tell you how many times I have imagined myself on the Red Carpet at the Oscars.  Don't misunderstand…  I'm not an actress – never have been….  but I can do a mean interview.  And in my deep fantasies, I'm the host.  And I'm wearing that dress you see right there.
From the time I was a little girl growing up in LA, I would watch the Academy Awards with a fascination my husband reserves for only the years the St. Louis Cardinals are in the World Series.  I would stand poised and ready, in front  of my TV, cordless telephone in hand – posing as though with a microphone.  I delivered the commentary, I asked the questions, "who are you wearing?" and "what was your reaction when you were nominated?".
Naturally, I'm not, in fact, on the Red Carpet and that dress is still in the store instead of hanging in my closet… but a girl can dream, right?  And, like many of you, I'll be glued to my TV on Sunday night – watching not only the actual Awards, but the parade of stars.
And tucked within the evening's events will be a unique commercial experience unlike one you have seen before…. an interactive one that promotes the idea you can achieve stand out Red Carpet Style at home.  So… if only I DID actually have that dress…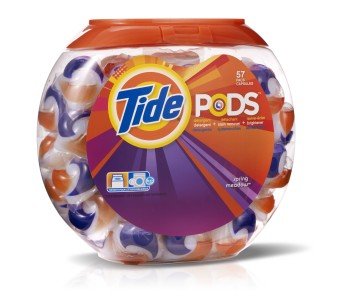 Witness the launch of Tide's latest innovation, Tide Pods… TidePods.com… a multi-dimensional laundry detergent, completely different from any other laundry detergent you've seen.
The commercial will premiere between 10 and 10:30pm on Sunday and includes a "Shazam bug" that allows viewers to leverage Shazam's music recognition software to get content about Tide Pods delivered directly to their smart phones. Shazam is a mobile app that uses sound recognition technology to immediately tell you information about a song that is currently playing.
It's interactivity at its best.  You will have access to product videos, a limited number of free product samples and a free download of the song from the commercial. This is the first time Tide has leveraged Shazam technology in its advertising, and the brand is excited for the chance to connect with consumers so directly.
To make sure you are ready for the commercial:
Download it to your smart phone (for free) and open it while the commercial is playing. You then click the "Shazam" button and the app takes a few seconds to listen
The app is trained to recognize the audio from the ad, so when viewers "Shazam" the ad,  they receive information about the product, the opportunity to download and access to free product.
Are you ready for the Oscars and Shazam?
Though I have a compensated relationship with Tide, I am both an avid user of their product and a regular watcher of the Oscars.  All thoughts and opinions in this post are my own.