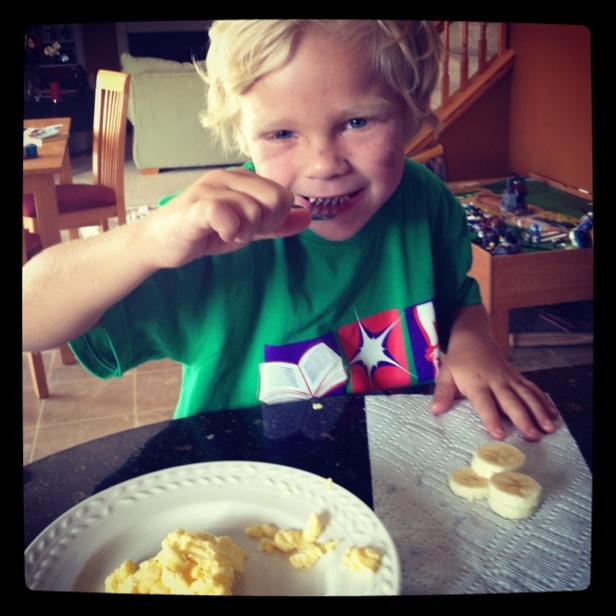 Now, to you, this picture may not seem remarkable.  And in many ways, it isn't. My small dude has a little bit of bed head, he's smiling as usual, and yes, you can see the remnants of last night's eye-black still darkening his face.  Feel free to judge me for letting him tumble in to bed at 10pm post-game without a shower.
But here IS what I love about this picture and why it represents a bit of a triumph for me – albeit a small one.
This picture reminds me that parenting is a process.  While I can't say I ever believed I would seamlessly feed my children, that they would automatically sleep through the night or that brother and sister would never fight, I can also assure you, I had no idea potty training would rank among the top ten worst experiences of my life, that I now find it odd to NOT be kicked awake in the morning and that getting my children to try a new food feels like a small miracle.
And that miracle?  Well – you 're witnessing it.  Also?  The 'trying something new' was met with enjoyment.  Cooper – my breakfast-cereal-pancakes-doughnut kid (with fruit, of course) agreed to try eggs. And gosh-darn-it-he-LIKED-them!
I kept waiting for Ashton Kutcher to appear…. laughing that I had been punk'd. Not that I would find that humorous.  To be clear, I'd probably take him out, but still, I was waiting.
And he didn't come.  And Coop kept eating. And smiling.
And my parenting felt infinitesimally easier.  For about 10 minutes.  But I'll take it.
I DO believe parenting is a process. 
Today, eggs.  The day before, brie.  Tomorrow…..?
What should I try next.