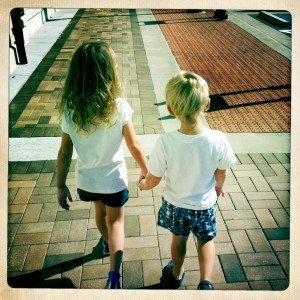 There are a few things I love that combine for something fairly powerful:
Surprises – both giving and getting, but mostly giving.
Smiles.
And my Small People.
I decided when my children were born that one of my primary goals would be to raise them with a giving heart and to (hopefully) inspire them to be truly kind souls.
I believed then, and now, eight years in to this parenting business, I can confirm, children do NOT do as you say, but as you do. I have been witness to more than a few unwelcome eye-rolls, hands on the hips, overly-dramatic sassy tones – and found myself staring at pint-sized versions of myself thinking, 'who TOLD them it was ok to behave this way?'
Right.  I did.  Because I showed them.
So, one of my parenting missions is, 'Give Good, Get Good'… the premise being simple: the more good you give to the world, the more you get (in the form of love, inspiration and positive energy) returned to you in one form or another.
And I choose to demonstrate this… rather than simply telling the small people they should be good and kind.
We do the very basic: we hold doors open for people, we say please and thank you, we pick things up for a stranger when they are dropped and sometimes we go a little bigger.
We have bought the groceries for the elderly woman behind us at the grocery store.  We have replaced ice cream for a toddler who dropped it at the park. We have taken care of lunch for the person behind us in the drive through.
We do it because it is fun.  It is a surprise, it makes people smile and it teaches my small people a beautiful lesson.
Once I challenged the small people to 'pay it forward'.  While they were eating breakfast, I dashed upstairs and made their beds for them (a task for which they are typically responsible, but don't truly love).  When they realized what I'd done, I told them their challenge was to surprise someone else that day with a random act of kindness.  My small dude tackled it right away.
I love the element of surprise. Sometimes, you don't even get to see the resulting smile, but you just know.
I need more of this in my life.  More surprises, more smiles and more examples of giving good for my small people.
Today, I will commit a Random Act of Kindess. 
And, I DARE you to join me.  Add a little surprise to your life, too!
By now, I believe you know I'm working with P&G everyday on their everyday resolutions campaign.  Here is what I love:  It is challenging me (and hopefully you as well) to think about the little ways you can be improving your life EVERY SINGLE DAY.
Since so many of us give up our New Year's Resolutions within the first few months, this is a chance to recommit to something simple, something manageable. Think about the little things you might want to adjust and share them with P&G everyday for a chance to win daily prizes.
To reward consumers for taking these steps, P&G everyday will be giving away $100,000 in prizes during the month of June.
For each person who submits an everyday resolution to the P&G everyday Facebook Page, they will be automatically entered for a chance to win
 From June 1 – June 25:  Three $1,000 VISA® prepaid debit cards a day
 From June 26 – June 30:  Five $1,000 VISA®  prepaid debit cards a day
When you join the conversation and share your resolution, you can also include a picture.
And for those of you who have already submitted a resolution, be sure to visit the P&G everyday Facebook page in order to enter daily for another chance to win! I will be sharing an everyday resolution on my Twitter and Facebook pages each day during the month of June and I would love for you to join me. You can also follow P&G everyday resolutions on twitter or register for their newsletter at P&G everyday for extra tips and tricks "for your life in progress".
Disclosure: I am working as a spokesperson for P&G's everyday resolution campaign.  Why? Because I use P&G products on a daily basis and it makes me happy to share this new project with you.  As always, all opinions and stories are mine alone.