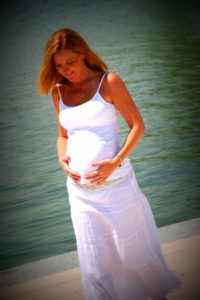 It may have been the woozy feeling.
It could have been the tenderness in my breasts.
It might have been my bloodhound nose.
But, whatever it was…..  I knew.
And not a wishy-washy-maybe-might-be-could-be….
This was a DEFINITE-I-KNOW.
With both small people, I KNEW my body was shifting…adjusting….accommodating…making room for another PERSON.
And now, I know something else.
I'm done.
I have two, beautiful-healthy-fabulous-wonderful-crazy-small-people.
And it is enough.
I could give you a litany of reasons.  I'm over 35. A pregnancy now would be a High Risk pregnancy. I almost died during child-birth (True.  And a story for another day).  I have a boy and a girl. Our family of four just works.  I don't want to go back to the baby stage.  Things are just now getting easier.  I didn't love being pregnant.  I have no desire to have my kidneys and liver punched by tiny fists.
But not one of those really matters when stacked up against this:
My family is complete.
I have two small people:  Delaney and Cooper.  And I'm good -great-supercalifragilistic-about it.
I swear.
I JUST KNOW.
About a year ago, when I first started to hint that I *might* be done having kids, my mom said, "Just know that the longing to have more will likely never go away – and you just have to be ok with it."
Here's the thing….  the Longing is LONG gone.  Really.
I don't miss that new baby smell.  My breasts don't ache around newborns.  My loins don't flutter when I pass a baby store.  I don't miss the baby kicking when my stomach growls.
And I get it…..  this all makes me, maybe, slightly unusual.  I have a LOT of friends who are still contemplating.  And they might be contemplating for a long time.
But, I will be honest…  the KNOWING is extremely peaceful.
And peace is all I can ask for.
Especially as Jeff makes good on that appointment he had. With Dr. Shnip.  Today.
Wish him luck.  And many bags of frozen peas.