Yep.
Eight.
That's it.
You've been voting….  and well….  there are only EIGHT Fuzzy, Furry, Hat-wearing, Heisman-Posed, Mustache-sporting Mascots still standing.
Who, you ask?
HOW DO YOU NOT KNOW?  Have you not been voting??  **deep sigh**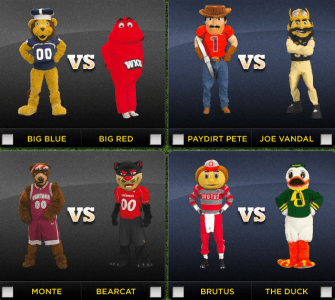 So…  these are the guys still in the running.  But, here's the thing….  FOUR of them tuck tail and return to campus NEXT week, unless YOU are voting.  Sure….  they have some AMAZING WOMEN ROOTING THEM ON AND GATHERING VOTES ON THEIR BEHALF, but really, supporters of all-things Brutus-Bearcat-BigRed-Monte-Duck-Joe-Pete-BigBlue…  you need to get a move on.
Sadly….
We say goodbye to UCLA's Joe the Bruin.
Adios to the University of Miami's Sebastian the Ibis.
C'est La Vie to Testudo the Turtle from the University of Maryland.
See ya! to Mike the Tiger from LSU.
Catch you later to Smokey from the University of Tennessee.
Ciao to Goldy from the University of Minnesota.
So long to The Bird from Air Force
and Cheerio to Mr. C from Vanderbilt….
Keep an eye on the LIVE FEED on the bottom of the main page….  Visit the Capital One Facebook page for updates and keep in mind – you actually have to go to the site to vote – no texting during the playoffs.
As of this writing….Old Dominion's Big Blue is out to a strong a start with DOUBLE the number of votes of WKU's Big Red….  Joe Vandal is just ahead of Paydirt Pete, Brutus has a sizable lead over the Duck and Monte and the Bearcat are battling for each and every vote – one hopping over the other at any moment.
It is Monday, folks….  just the beginning of this week's QuarterFinals voting.
Who will make it to the Final Four? You vote.  You decide.
(and then, really…..  who is coming with me to the Capital One Bowl Game on January 1st???)