As a teenage girl, the phrase " I love you too" holds certain meaning…..on one hand, you desperately want to hear your boyfriend express his love, but there is something about the 'too' that gives us a hang up.  We want someone else to say it first.  We don't want anyone telling us they love us because they feel like they have to…
But now, as a Mommy…"I love you, too" are 4 of the sweetest words in the English language.  Not only do my little mini ones know that I love them, but at 2 and 4 they  love me back and are grasping the meaning of 'too'.  That is something special.  Without fail, if I tell Delaney I love her, she responds with "I love you, too".  Sometimes she says it around the thumb she sucks, sometimes it is half whispered as she falls asleep, sometimes it is shortly after getting into trouble, but EVERYTIME, my heart skips a beat.  Everytime it is fresh and fabulous.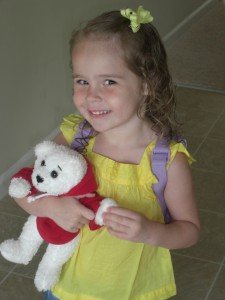 I'll take "I love you, too" every day of the week.