All of the chatter around New Year's Resolutions typically gives me a headache – mainly because I start to feel all panicky, asking myself a series of Danielle -you-must-resolve related questions:
What do I need to change?  What have I done well, but could I do better?  What have I NOT done well and desperately need to adjust? If I decide to make this ever-growing list…..Will I ever LAST?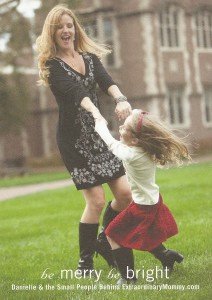 Typically, I abide by a personal theory – my NEW YEAR is actually on my birthday.  Not on January 1st.  This means, naturally, that I have an extra three weeks to rework, revamp, resolve and refresh.
But instead of stressing about all of this 're' business, I'm resolving to do only one thing:
I'm giving myself permission to JUST BE.
2010 has been amazing.  I would like to reflect on it and absorb its highs and lows without the pressure of deciding what I could have done or should have done *better*.
I have had so much running around in my head – so many goals and wishes and dreams – I keep hearing, 'go big or go home', 'write it down, make it happen', 'set your goals for 2011' and the like…..  and while I agree, I really do….  what I need…. what I want…. is to JUST BE. Just like I am in that picture with Delaney.  I am living completely in that moment.
I want to ponder. To ruminate. I want to reflect on the greatness of the people who inspired me. I want to relish the experiences.  I want to treasure the moments – the little ones and the gigantic ones that shaped this year.  And in order to do that….  you know what I have to do?
I have to JUST BE.
So, in the coming weeks, as my reflections and ruminations morph into plans, I will share….  In the meantime, I would love to know what is inspiring you as we celebrate the beginning of 2011.
I would like to thank the amazing folks at Paper Culture for being a part of one of the most inspiring experiences I had this year.  They were one of two companies to sponsor the Creative Alliance Conference in October- during which I discovered new friends and created alliances that are still shaping who I am today….  That holiday card pictured is the one I created with Paper Culture to send out for ExtraordinaryMommy – and honestly, it makes me excessively happy EVERY time I look at it.