Like many of you, I constantly struggle with balancing everything.  I've talked about it before and asked your advice – many of you have given brilliant answers and suggestions.  For that, I thank you.
Having been gone for 5 days, and preparing to leave again for 7, I feel alternately behind and pressed to be moving ahead at warp speed. 
There is laundry to be done, clothes to prepare, a schedule to nail down for the trip and then all of the work related stuff that is clearly not going to take care of itself.  And I am tired.  I desperately wanted to take a little nap when the kids went down, but it just isn't an option.
When Delaney got up, she padded into the office, blanket on her shoulder, thumb in her mouth and wanted to snuggle.  I took a quick break, but could feel the magnetic pull of my computer and work load as if there were physical tentacles attaching themselves to my hands and shoulders.
So, I cuddled and went back to work.  Delaney could be heard reading to herself in the next room.
A few minutes later, she reappeared in the doorway asking for a snack.  And then juice.  And then she settled in next to me to chat.  One question after another. One 4 year old sized thought tumbling out of her mouth every few seconds.
I can't write, or think when people are talking to me.  The pressure I have put on myself makes me snap at her, "Delaney – PLEASE!"
You know what she did? Dropped her shoulders, bowed her head, let small tears fall from her eyes and said, "It's ok Mommy, I know how you feel about me."
Pardon me while I adjust the giant lump in my throat and try to lift the weight that has cemented itself to my heart.  I feel this big – and by 'this', I mean itty-bitty, teeny-tiny, the smallest of the small. How I feel about her? She couldn't possibly know how truly, madly I love her.  How I can't get through an hour without thinking about her sweet smile or how I wouldn't be able to get through my days if she wasn't a part of them.  She couldn't possibly know that I love hearing her sing, I tickle her just because her laugh is the soundtrack to my soul, that I could cry as I listen to her learn or that I could dive right into those big brown eyes and get lost forever.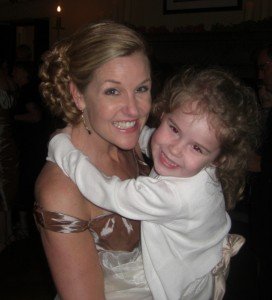 But what she is feeling right now?  That is how I have made her feel – like she was second place.  And this just might be the worst feeling in the world. She could pick me up and hold me in the palm of her hand.  That is how big she is in my world, and how truly minute I feel as I rush her in to my arms to reassure her.
I take a deep breath, wrap my arms around her – trying to make her feel secure physically to make up for the way my words and actions have failed her today.
She says, "I'm so sorry, Mommy.  I just wanted to tell you everything." She is sorry?  Nope – this is now me – feeling as sorry as I have ever felt.
I cut loose the tentacles tying me to work, pull her into my lap and play.  We read.  We laugh. I try to teach.
I do what a mother is supposed to do: put her child in First Place.