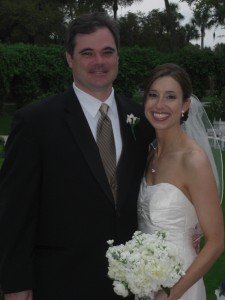 I have a dear, sweet friend who just exchanged wedding vows this past weekend with an amazing guy on Jekyll Island in Georgia.
Erin and I have been friends for almost 10 years – our 'first date', if you will, was the night of Y2K.  We were both working for a TV station and were charged with working overnight – giving regular updates to viewers to assure them that the world was still turning.
That night was the beginning of an amazing friendship.  In the past 10 years, we have laughed, cried, supported each other through tough times and rejoiced in each other's successes.  I always knew she was an amazing catch – in addition to be one of the kindest souls I have ever know, she is funny, intelligent, loves baseball and college football and even has her own subscription to Sports Illustrated.
I was privileged to be her Matron of Honor.  Erin is like a sister I never had. Delaney, as the bride's Goddaughter, was thrilled to be the Flower Girl, and well, Coop – serving as the ring bearer – he was just happy to be along for the ride.
The weather was hit and miss all weekend.  Scary when you are planning an outdoor ceremony and reception.  The rehearsal dinner was moved inside on Friday night.  As we prepared to walk down the beautiful garden aisle, the darker clouds continued to rush in.  I crossed my fingers that the rain and wind would hold off.
It did.  And, in doing so, created THE MOMENT.
As the Groom began to say his vows, a clearing appeared in the clouds – the sun began to shine down on Erin and Drew as though God had turned a spotlight on them.  I got chills as I watched it happen.  Drew's eyes filled with tears and his voice took on the slightest quiver.  The sun intensified.  Erin shared her vows, also teary-eyed.  As the last words fell from her mouth, that slight clearing disappeared…the sun falling back behind God's curtain.
The night before, the Father of the Bride had given his official blessing to this union….and at that moment, I knew God had done the very same.
She was the most stunning bride – and he, the luckiest guy in the world to have captured her heart.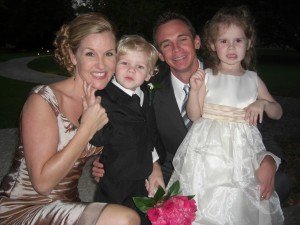 From the moment we arrived on the Island, it felt like we were taking a bath in love and Southern Hospitality.  Having the only children at the event, my husband and I were easy targets for beautiful tidbits of parenting advice.  We were given suggestions for forming family traditions, warmly warned to 'appreciate every minute', and told over and over again that Coop and Mini were 'just dar-LIN'.  (Despite the look on her face – she did have a wonderful time!)
I have to agree.  If it wasn't for the true, natural beauty of the bride, the small people might have stolen the show.  But, then again, I'm biased.
As a wedding gift for Erin and Drew,  I made all of their paper products – the menus, place cards, programs and gift bag inserts.  But I wanted my true gift to be my toast.
Some of what I said to them is written above – but I wanted to share the moment when I raised my glass so they may come back to it again and again.
Erin and Drew – I wish you a marriage, a relationship,  just like that of your parents – one filled with love and based on friendship, trust and respect.  May your love be modern enough to survive the times and old fashioned enough to last forever.
Here are a few extra favortie pics: