I have had a few surprises lately.  Finding out our family picture was being used in a grocery store ad in Prague was definitely a surprise.
I found it interesting, as I've explained in other posts because of the 'small-world-what-are-the-chances' aspect and because I think there are A LOT of people who didn't know this could happen, or that it does happen.
I was certainly surprised by the International interest – which I suspect is likely attributed to the reasons I mentioned above, but it also seemed to appeal from a 'bizarre' angle.
Also a shock to me – the colorful nature of some of the comments and emails – no – I didn't make this up (really – you think I managed to snow more than 300 publications?  and I managed to get the grocery store to play along?  seriously?) no – the photographer didn't sell the image (there are 2 Gina Kelly photographers – the one I know and love doesn't sell stock photos), yes – I did post it online, yes – I may have posted too large of a resolution, Yes – Gina had given me permission to post, no –  I am not planning to sue, no – I don't think it is 'right' to use pictures without authorization from the people in the picture AND the photographer (even if they are displayed online), yes – I am comfortable sharing stories about my family online – even after this has occurred, no  -I don't think I'm a bad mom for doing so.
But the secret surprises were all of a beautiful nature – I found myself surrounded and yes, even protected, by a very passionate group of strangers, online and offline moms, bloggers and social media experts. You reached out to give me a virutal hug or pat on the shoulder.  I have been touched by the kindness in so many comments – and wish it was possible for me to respond to each and every one. 
From the bottom of my heart, thank you.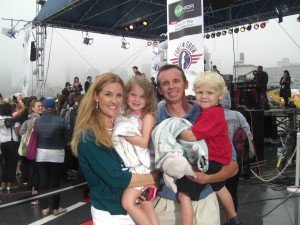 But, among the biggest surprises – the blessing of a last minute trip to New York City.  We were on The Early Show on CBS on Friday morning. (which just so happened to be on the USS Intrepid and included a live performance by Lionel Richie) We did a few additional interviews, including chatting with Michele Norris on NPR, but the rest of the time was ours.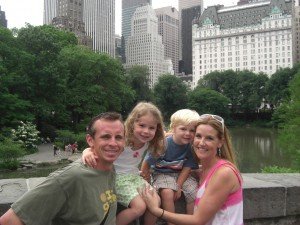 It was amazing, spectacular, uninterrupted family time. We were tourists, a Mommy, Daddy and two, sweet, small people experiencing the joy and chaos of the Big Apple. We danced and played our way through FAO Schwartz, walked through Central Park, visited with friends, ate at my brother's restaurant (he hadn't seen the kids in two years!), went to Times Square and the ESPN Zone and even managed the kid's first subway ride.
I have to admit, it is so easy to get caught up in life – so much so that you don't often unplug and take long stretches of time to spend only with the people you love most.
As crazy as this past week has been – I have continued to smile through the process and wake up every day a little more grateful that the small people love me and so does that guy I married. 
Lucky me.