I have to admit it, I was worried about today.  I woke myself up last night preparing, already feeling the tightening as it wrapped around my heart.  I knew today was coming, and I wanted it to be here, but I didn't. You know those little hurdles you must jump after you lose someone you love?  The ones that are just part of living to everyone else, but to you….  they feel like a sledgehammer to the gut?
That's what I feared of today.
But instead it was extraordinary.  I laughed instead of sobbed.  I will admit to a few tears, but they were sweet and surrounded by hugs.
Today, we took family pictures.
Sounds like a simple, non-threatening event, yes?  Except the person who has taken our family pictures for the past nine years, my sweet, beautiful, kind-hearted friend, Gina Kelly died earlier this year.  Her death punched a hole in my soul.  I was robbed of years of her friendship, her family was robbed of years of her love and presence and the photography community – St. Louis and beyond – was robbed of her talents.  The thief, as it often is: Cancer.
Gina's work decorates my home and always will.  She is responsible for some of the most beautiful memories I have of my small people.  Knowing that photos, snapshots of my family in time, are important to me, knowing that my children have always had a special bond with Gina, and believing that this first experience without her would be incredibly painful, it was crucial to me that the photographer we chose embody the same love and spirit as Gina.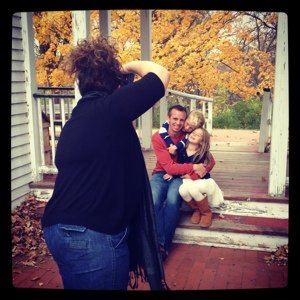 I couldn't have chosen a better person, a better soul, a better photographer to spend today with my family.  Joanna Kleine is someone I have known for years.  I have always admired her immense talent. Beyond that, she knew Gina. She loved Gina as I did.  And I simply sensed she would 'get me', would understand my family, and would appreciate the quirkiness of my small people.
She did.
The spot Joanna chose for our pictures was one of the first places Gina ever took us for a family shoot…. I worried my emotions would get the better of me. But I sensed Gina's love in every one of Joanna's smiles. I was able to focus entirely on 'the moment' with my family and with Joanna.  I didn't dwell on the loss of Gina – I knew she was there with us – in my growing friendship with Joanna, in the bursts of sunshine and gusts of wind.
Joanna and I shared a moment, a memory of Gina and a hug. What beauty to feel buoyed by her gifts even when I can't sit down with her face to face anymore.
Today wasn't actually hard at all – it was glorious. I'm grateful.  And I cannot wait to see the pictures.