UPDATE:  LOCAL ST. LOUIS NBC AFFILIATE KSDK JUST REPORTED 15 MINUTES AGO (roughly 12:30AM CST) THAT  ALISA MAIER HAS BEEN FOUND ALIVE AND UNHARMED IN FENTON, MISSOURI.  SHE WAS APPARENTLY DROPPED OFF AT A CAR WASH AT ABOUT 9:45 TONIGHT AND HAS BEEN REUNITED WITH HER PARENTS. (Fenton, MO is roughly 92 miles South East of Louisiana, MO)
Amazing….simply amazing…..
I was just talking to girlfriends the other night about my fears as a mother….we all weighed in, candidly sharing the things that sometimes keep us up at night worrying….  Cancer, car accidents, drowning, and kidnapping.
They all seem to fall into the 'it won't happen to me category', but they do happen.
Four year old Alisa Maier's family can testify to that.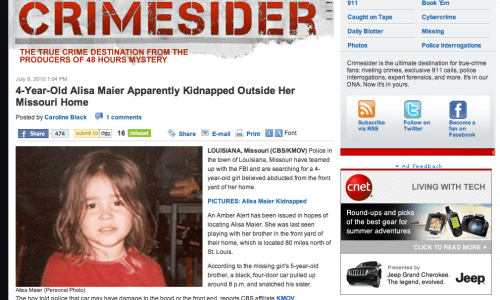 This little girl disappeared from her front yard last night in Louisiana, Missouri….that is about 80 miles north of where we are in the St. Louis area.  According to media reports and police statements, she was outside, playing with her five year old brother when a black, four-door car pulled up, a man got out and took Alisa.
When I say I cannot even imagine, I truly cannot picture how I would function, how I would scream, how I would lash out at the nearest person.
Like Alisa, my almost-six year old has long brown hair and brown eyes….is about 40 pounds and is only a bit taller.  Looking at that sweet face on the news makes my body struggle for the air I need to breathe.
Tonight, my prayers will focus on this family.  With all of my heart, I hope Alisa is brought home safely.  Soon.