See UPDATE below:
"Danielle, now seriously….let's talk about this for a minute….I know they aren't 12 and 14, but they (the small people) can be in the backyard for a little bit by themselves."
My husband is a trusting soul, longing for our kids to both develop independence and experience the care-free-fabulous-playtime he remembers from childhood.
My response to this was too long-winded and preachy to re-write, but the conclusion goes something like this, "I know I'm paranoid, but I can't do it."
Naturally, I asked Twitter.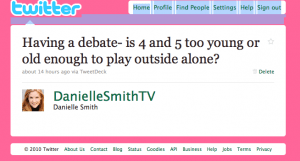 And you all?  Well, you responded and I love that.
I love that you shared your opinions, asked questions and helped me to think about it all.
Clearly it helps to understand the specifics, right?  So, I'll share.  We live in a 2-story house with a 'walk-out' basement….meaning you enter my home from the front door at ground level, but walking out the back door takes you onto a deck….the backyard is level with the basement.  Make sense?  So looking out my back windows, you have to look down…and to get to my kids in a hurry, I'd be running onto the deck and down the stairs.
I also don't have a fence.  And while I live in what I believe to be a very safe neighborhood (don't many of us feel that way?) we also live on a corner – which means there is a street right next to my home.
Just when I'm wondering if I'm too overly protective….wouldn't it be fine if the kids just played on the playground – I'm right by the window – and I'd keep the door open, I remember watching the news this morning…..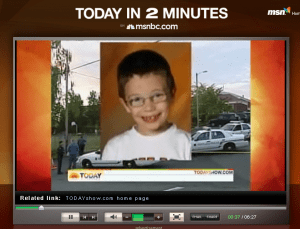 If you aren't familiar with this story, this is Kyron Horman.  The 7 year old disappeared from inside his school nearly a week ago.  News stories say his step mother walked into school with him, snapped a proud photo of him in front of his science fair project, walked with him towards his classroom and then left.  Kyron's teacher marked him absent because he never made it to class.  It was discovered he was missing when he didn't come home from school.
Are you kidding me?  This bares repeating: He disappeared from INSIDE his school.
Yes, I know this is a few thousand miles from me.  Yes, I know this is a unique (and horrifying situation). But this kind of thing happens.
I work to keep myself calm and rational.
And then I start to doubt my paranoia again….only to receive an email titled, "Attempted Abduction at Zachary Park".
Yes, the email is a forward.
But, Zachary Park is in a suburb of St. Louis.
AND, I have been to this park, many times.  It is less than 15 minutes from my home. It is big and difficult to watch more than one child at a time – especially if you are with kids of varied ages…they will automatically head for different ends of the park.  Oh and there are multiple exits.
The original email was sent out today and is relayed by a friend of the family who experienced the 'attempted kidnapping'.  The child is 5 years old. This is an excerpt from the story:
The girl was walking when 2 women that she had never seen before came up on both sides of her.  One looked about 40 and the other a teenager.  The older woman brushed up against the girl and grabbed her hand and started holding it while the other walked on the other side of her.  They didn't say a word to her.  They were leading her toward the entrance when her mom saw her and yelled her name.  The older woman turned, looked over her shoulder at the mom and kept walking toward the entrance.  She yelled her daughter's name again and the girl let go and ran toward her mom with a very scared look on her face.  The mom was so confused and in shock at the time that all she could do was hold her daughter and make sure she was OK.  By the time she thought to go after the women they were long gone and not seen again.
Chills.  Fear. What if that mom had been talking to a friend?  And not watching her daughter every second?  I've done it.  I've glanced away.  I've helped my son down the slide and then found my heart rate quickening as my eyes dart from one child to another, looking for my little girl.  I've felt that fist let go of my heart when I finally see her.
The email mentions that the police are involved.
Again…. a misunderstanding?  A rarity? If you are thinking I don't have confirmation – you are correct.
You know what?  I don't care.
It is my job to keep my children safe.  And after today, my husband understands my point of view – even if he wishes it could be different.
And if that means they suffer through some of Mommy's excessive paranoia, so be it.
I was sent this email that is apparently in response to a request for more information from the Lake St. Louis Police Department regarding the 'Attempted Kidnapping'  at Zachary Park:
Mrs. XXXXX,

I received your email via our website and wanted to provide information

regarding your concern.

We did receive a report of suspicious circumstances about two weeks ago

regarding a woman holding a 5 year old child's hand.  The mother called

the child's name and the child returned to the mother.

The incident was reported to us several hours later and a check of the

area failed to produce any persons of interest.

My detective spoke to the mother whose concern centered on caution

rather than fear.  In her words, I think that abduction is rather

strong.  It may have been entirely innocent but I think we should be

cautious.

There is no indication at this time that there was an attempted

abduction but we continue to investigate.  We have shared this

information with other agencies in order to alert them just in case.

There have been a number of emails that have surfaced in the community

alleging that it was, in fact, an attempted abduction.  In order to

reassure residents, I plan to do an article in Newstime speaking about

child safety in general and addressing this specific incident so that

residents are adequately informed and rumors do not prevail.

Please feel free to share this email with others who may be concerned

and feel free to call me should you have any questions.

Chief Mike Force