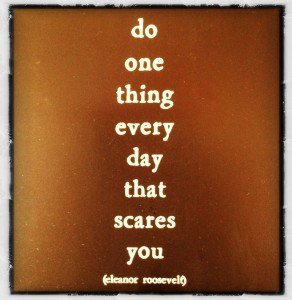 This will be the year of conquering fears, I can feel it.
I already went ice skating.  And that was huge. I was certain I was going to break a hip.  And not only did I MANAGE, I actually had fun.  Turns out my small girl was scared too.
We helped each other.
One of my favorite quotes of all time is this one by Eleanor Roosevelt.  I see it on my fridge every day.  To my sweet 7 year old, the quote itself is scary.  Do something every day that is scary?  No. Thankyouverymuch.
But I believe it is good for the soul.  So I am trying.  And I encourage her every chance I get.
Though, to be fair, when you are seven, it is easy to be scared of being scared every day…. so I'm not pushing.  But this?  Her allowing me to post this video her singing?  Well, it is big.  Huge.  Monstrous.  Initially she didn't even want to let me video her while she sang.  And then she relented.  Because she knows listening to her (over and over again) brings me joy.  And I think she was smart enough to realize if I had her on video, I might not request her in person quite as often.  Knowing her hesitations about singing 'in front of people', I didn't even ask her about putting it online.
I waited.
And then SHE came to ME.
Just an offhand comment.
"Mommy… you can put my video on YouTube if you want…"
Here she is.
(Updated September 4, 2018 – Video no longer available)
I pretended it was no big deal.  But really…. inside I yelled, "HELL YEAH!" because she can sing and I'm proud and I want to share her talent and I'm her mom and moms are allowed to be proud, right?
But to her, I said, "oh, ok… thanks, baby…."
So, here I am… sharing my sweet girl with you.  Even though she's shy about it, I know it would mean the world to her if you had a word or two of encouragement.  I mean, if you feel like it.  And if you aren't too tired to type or anything.
So says the proud mom.