"Do one thing every day that scares you" – Eleanor Roosevelt.
I have long found Eleanor Roosevelt fascinating.  By the age of 10, both of her parents had passed away, leaving her to be raised by her maternal grandmother.  While she did not have a 'poor' upbringing, (she was, in fact, quite privileged) many historians will say her childhood was void of affection.  This eventual First Lady and delegate to the UN General Assembly paved her own road.  She was a tough one.
What scared Roosevelt and what scare me may differ, but I do still love the notion of moving beyond what is comfortable. A good friend reminded me just recently that it is within the time of our greatest trials, the times when we struggle the most, the times when we are most SCARED, that we have the greatest opportunity for growth.
And so it is, that I am choosing to live by this quote:
"Do one thing every day that scares you" – Eleanor Roosevelt.
But what does that mean? (I know – I'm already a parent – isn't that scary enough!)  Does it mean I'm going to actively seek out my irrational fears: heading into the basement each night in the dark  to start looking for cockroaches (yes, I'm afraid of them – I can't help it), or making bungee jumping reservations?
Nope.
But it does mean this:  I recognize that I let some of my personal fears and insecurities hold me back.  I am terribly afraid of rejection.  So afraid that I seem to be making a habit of taking the 'easy' road – it is easier NOT to ask, NOT to try than run the risk of being turned down, of hearing 'no', or being told I'm not good enough.
I am AFRAID of how I feel when these things happen.
But aren't those feelings a small price to pay for the times when the answer is 'yes'?
I'm also afraid of taking time for myself – of pursuing passions that don't involve work, for fear of 'playing' when I should be working. I've been so enmeshed in work for so long, I have forgotten how to enjoy life.  If you were to ask me what my hobbies are…. I'd struggle to tell you anything beyond reading – which I've stopped DOING.
Because I'm afraid. What if I fail?  What if I'm no good? What if I can't master a new talent, hobby or task?
For example, I have always wanted to sail.  I had a small taste of it a few months ago and was in love, but have hesitated to make the time to pursue it.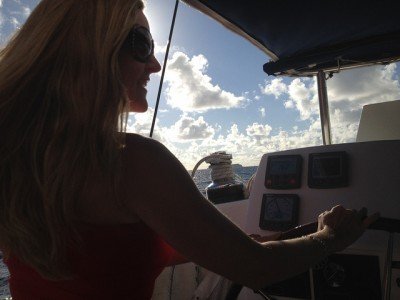 It is THESE fears I am challenging myself to overcome. There are things I want in life, dreams I have, goals I am setting…. but I realize, without facing my fears – every single day – none of them will be realized.
This is my P&G everyday resolution – my chance to make a positive mid-year change. What will you do to create a positive change in your life? P&G everyday wants to know… join the conversation and enter the P&G everyday resolution sweepstakes for a chance to win a $1000 Visa® prepaid debit card, daily between now and the end of June. Also – don't forget to visit P&G everyday for smart living tips, value savings advice and free samples to help better your "life in progress". And if you haven't done so already, follow P&G everyday on Twitter (@pgeveryday)!
Also, join me on Thursday, June 28 for the One Small Pledge by P&G everyday Twitter chat at 3:00 PM EST. I will be sharing my tips for sticking to my everyday resolutions, and I want to hear from you how your pledges are going – if you've been able to stick to your goals and what you've achieved by focusing on the small, everyday things to better yourself, your family and your community. When joining, don't forget to use the hashtag #PGE1smallpledge.
Disclosure: I am working as a spokesperson for P&G's everyday resolution campaign.  Why? Because I use P&G products on a daily basis and it makes me happy to share this new project with you.  As always, all opinions and stories are mine alone.